GER TOURIST CAMPS IN COUNTRYSIDE
Local hotels in countryside is always GER tourist camps. Ger is Yurt, which is Mongolian national dwelling with round shaped and felt covered.

Ger camps for tourists have around 15-50 gers and One ger is considered as one Ger-room. Tourist camps' each ger-room has at maximum of 4 beds, it means can be used for 4 occupancy.

Single travelers and couples can use single or double occupancy in a ger. Each ger of tourist camp is well fitted with nice decorated furnifures like table, chairs, stove for fire putting fire, mirrows, wardrobes and other required furnitures.
| Ger Camp View | Ger view outside | Inside: bed, stove, table |
| --- | --- | --- |
A ger-room doesn't have a bathroom room in it's inside. The shower and bathrooms are in separate buildings apart ger-rooms.
The ger roof is covered with felt and plastic covers, so rain doesn't enter into the roof. The wall is covered with felt and special cover, so the wind doesn't enter into the ger. In summer hottest days, half-1/3 of wall is folded up and nice breeze can enter the ger and it is really good comfortable space to avoid from heating. In coldest nights, ger keepers will make fire in the stove in your ger and it will be easily enough warming. If you want to enjoy seeing surroundings outside your ger or reading books outside ger, it is completely possible, just take your chair out ger and can sit near your ger.

| Kitchen & Dining House | Snooker Room | Making fire | Bathroom outside |
| --- | --- | --- | --- |
At most of tourist camps, their ger rooms are connected with electricity and you will have light and socket for recharging your cameras and batteries, but there is no wi-fe connection. Some camps, located in the remote parts of Mongolia, don't have electricity, so travellers will use candles and flashlights in their ger rooms.
Each ger room has own tiny locks and it is adviced to lock the door, when you go to the bathroom or for dinner and sightseeing.
Also, you may have dining in a big Ger-Restaurant-bar, go to Ger-Art shop, even you have a beauty saloon service in ger saloon!
PLEASE, SEE THE PHOTOS OF SOME TOURIST CAMPS IN BELOW:
KHUSTAI TOURIST CAMP, Tov province, Central Mongolia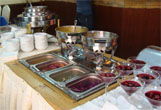 KHATAN OGII TOURIST CAMP, Arkhangai province, Central Mongolia

MONGOL GOBI TOURIST CAMP, Omnogobi Province, South part of Mongolia