NAADAM FESTIVAL TRAVEL
Tour code: MN-8
Seasons to be arranged: 9-16, July annually
Duration: 7 nights & 8 days
Number of travelers: Available for solo traveler, 2-4 people, group max of 20 people
Tour grade: Easy
Total distance: 1100 km by jeep, 5 km by horse
Activity: 1 hour horse riding, hiking 2 hours, meeting with nomads
Specially advised to pack: Hiking good shoes, sun glasses and sun hat, binocular, mosquito repellent crème, your favorite delicacies,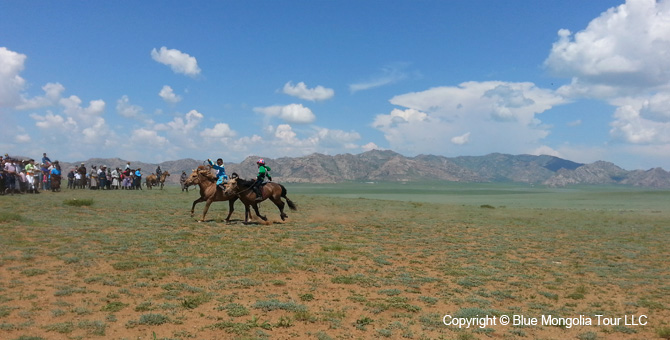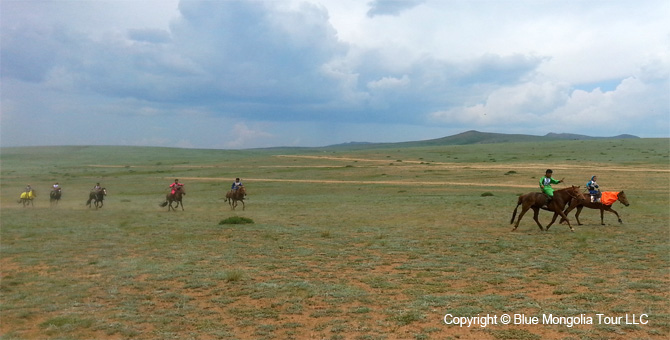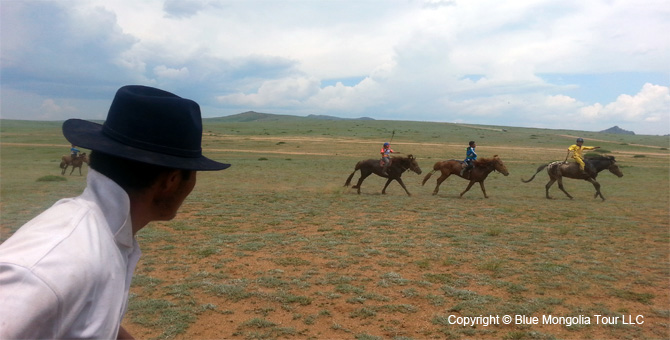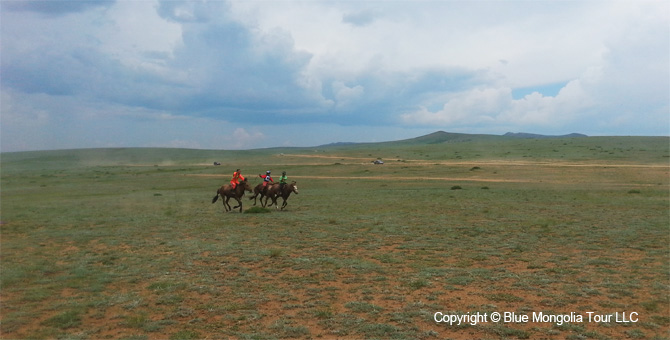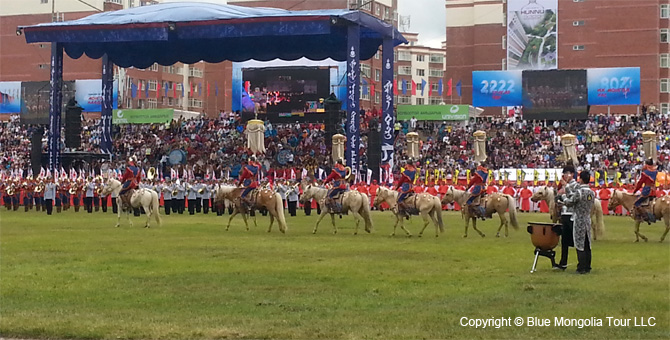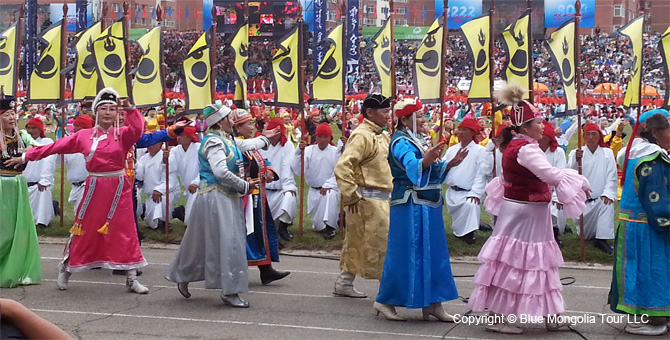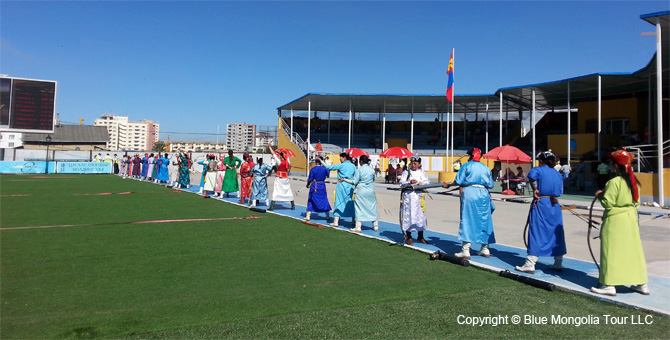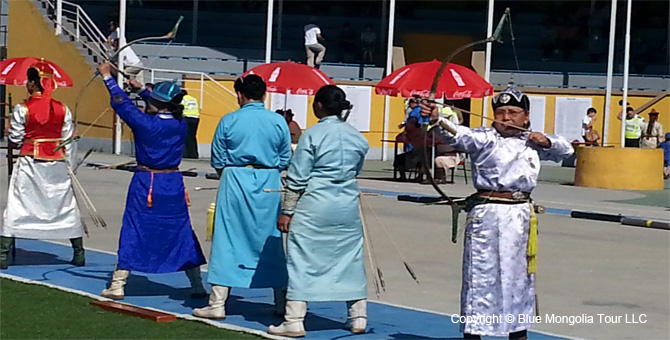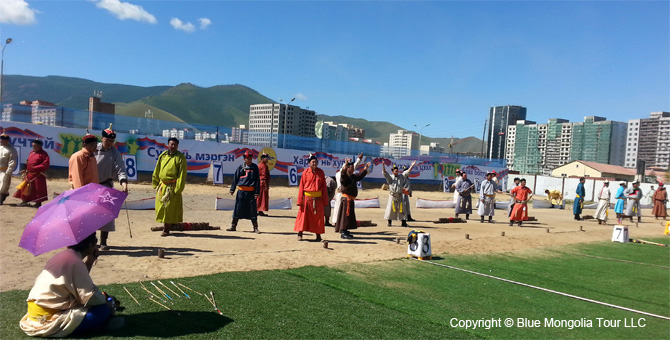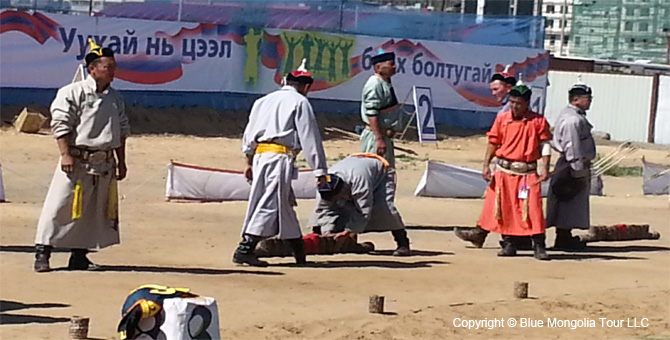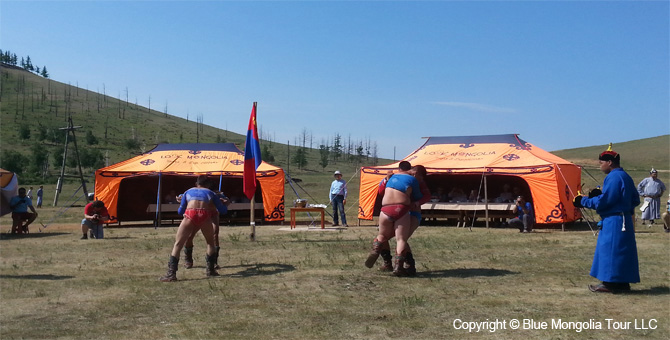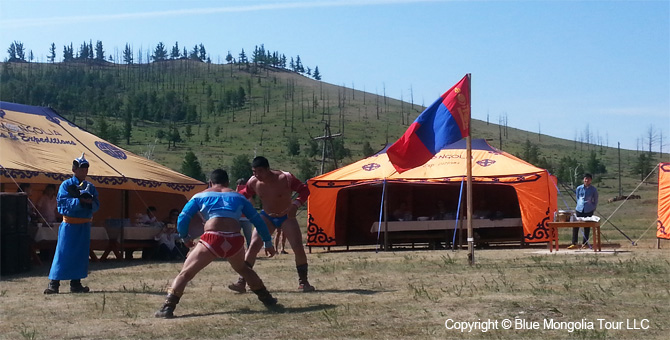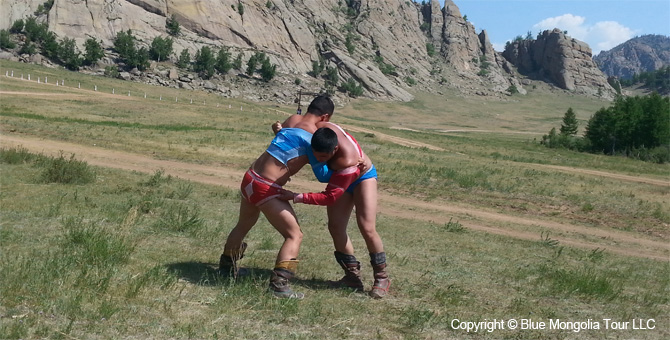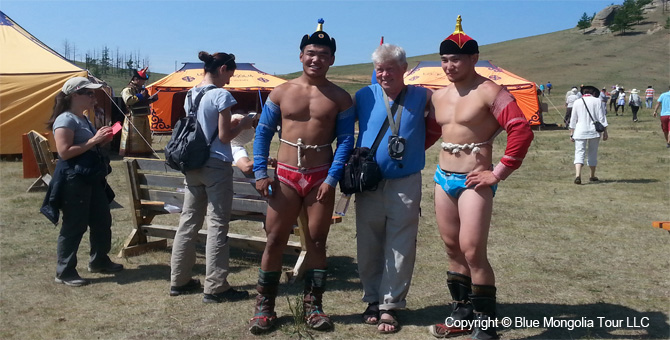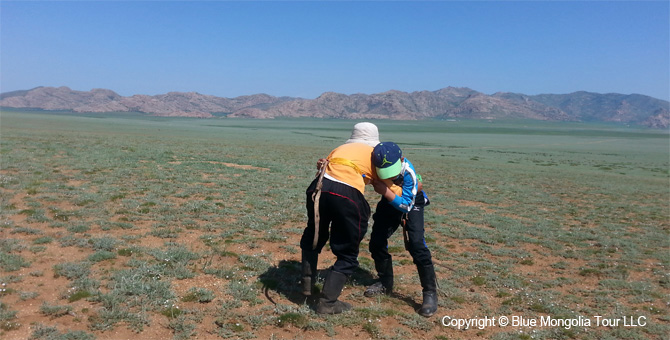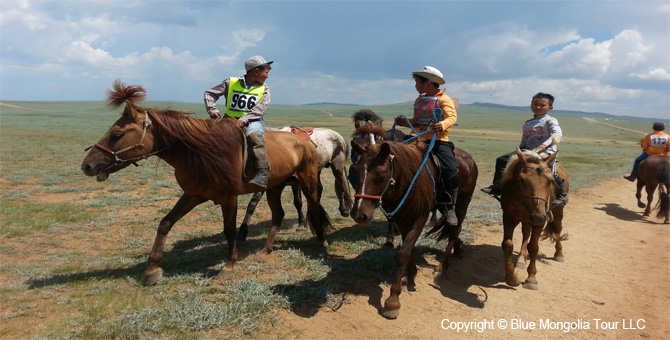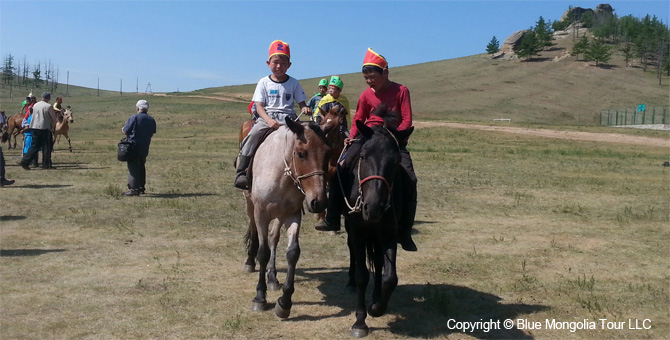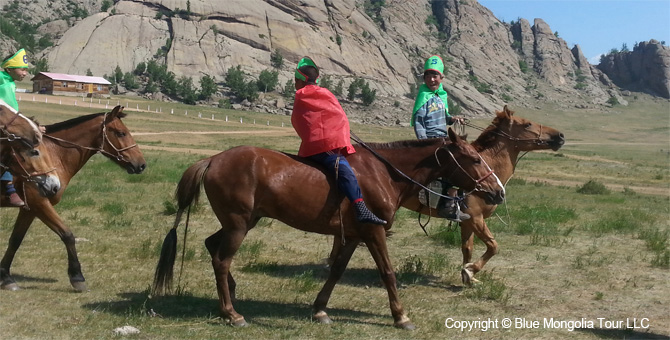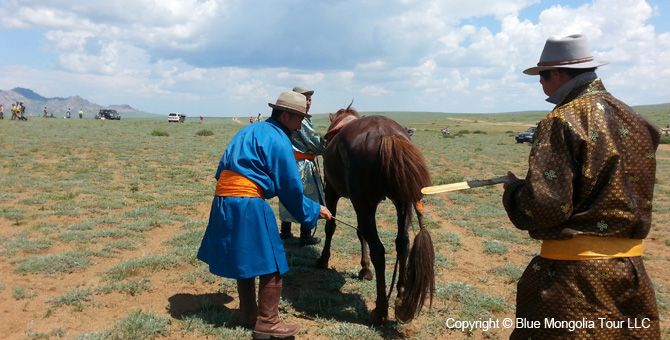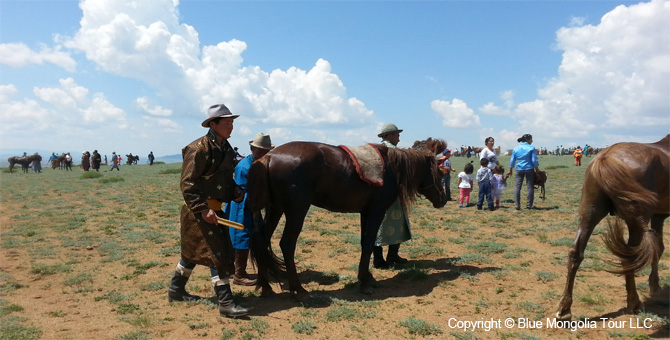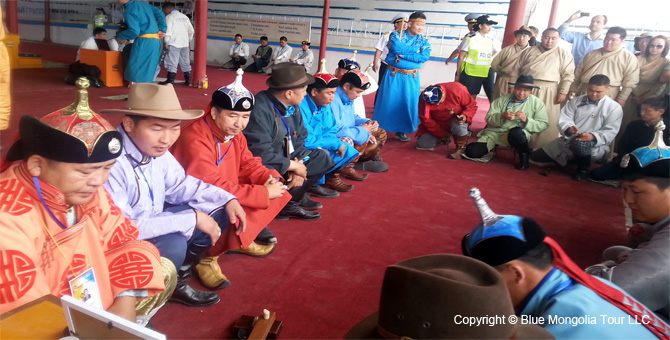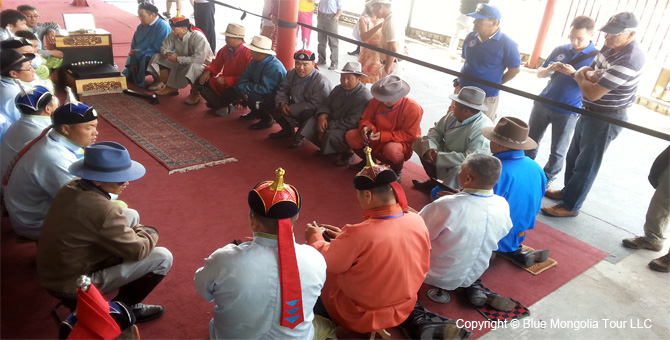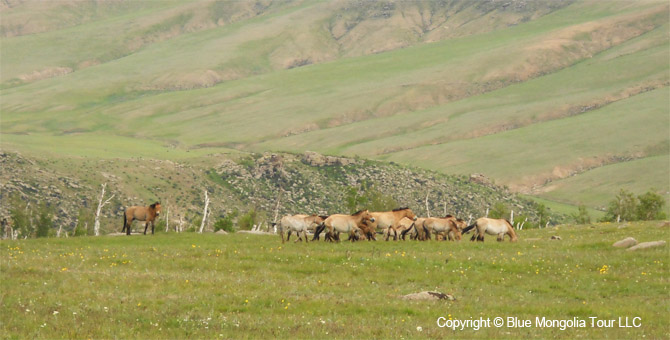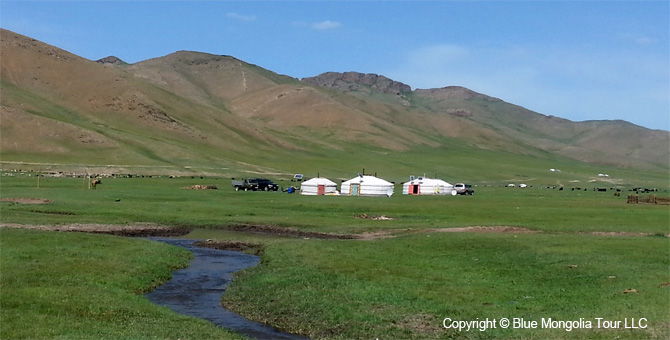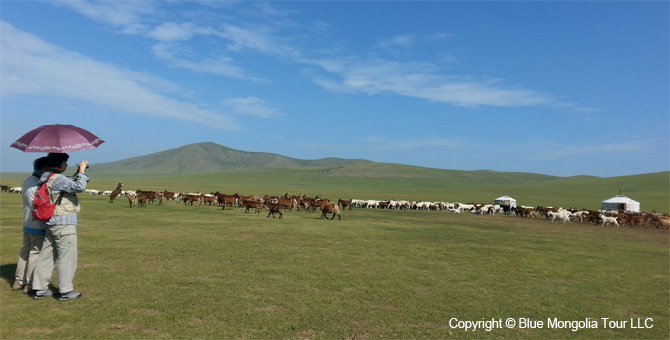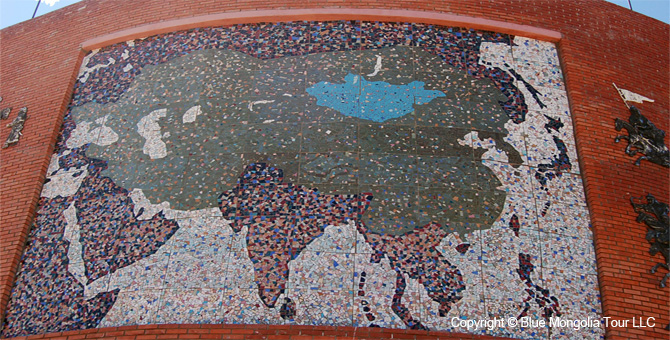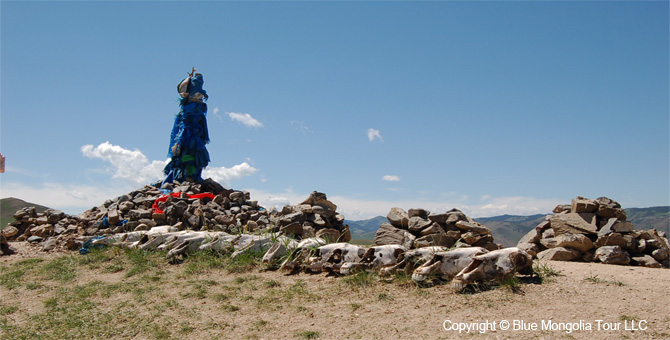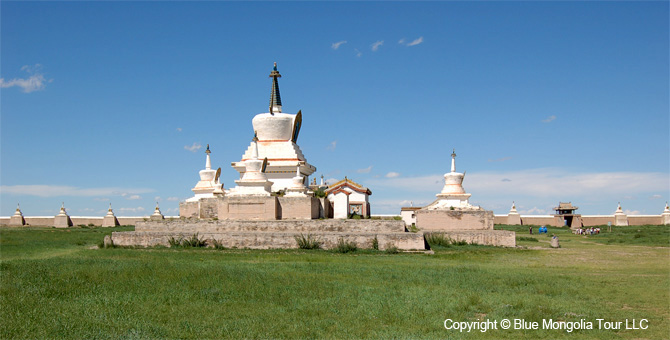 Day 1: Ulaanbaatar capital
Arrival in Ulaanbaatar city, Meeting assistance upon arrival by Blue Mongolia Tour agency representative and transfer to Hotel with 3 stars. Rest of the day at leisure to adjust to time difference. Stay in hotel
Day 2: Ulaanbaatar capital
After breakfast the travel starts with city tour. It includes visits to Gandantegchilen Monastery- Present biggest monastery, which houses for giant standing Buddha statue, National History Museum gives you real insight into Mongolian origin and history, Paleontology Museum offers nice chance to see petrified dinosaur skeletons and nestled eggs, After lunch travel continues as visiting to main square Chinggis Khan, Free time for shopping the main street shops, art shops and antique shops, In the evening by 6p.m – enjoy folk performance concert with songs and contortion acts, Dinner, Stay in hotel
Day 3: 11, July. Naadam Festival Holiday
This morning, attend the opening ceremony of Naadam—Mongolia's famous annual festival and sporting event—at the National Stadium. Dressed in traditional garb, participants compete in the "three manly sports" (wrestling, archery, and horse racing). After the pageantry of the opening ceremony, witness the pomp of the ritualized archery, ankle bone targeting and wrestling contests. There is nice chance to see the perfect mastery and majesty of horsemanship, After lunch transfer to the horseracing field outside of Ulaanbaatar to experience the excitement of thundering hooves during the traditional horse race. Visit horse breeder's tents and see how they are taking care for racing horses, Explore horseracing with children jockeys, Enjoy with holiday special cuisine dinner and stay in hotel
Day 4: Ulaanbaatar city – Naadam festival field
This day is surprise for you and you have own choice which art of the game you want to go again and spend time with Mongols: wrestling, archery, ankle bone or horseracing… After lunch visit to Mongolia-Russia Friendship monument on Zaisan hill, From here you can see the hole view of the city, Visit to Mongolian Last King's Palace Museum, where are displayed unique art works by Mongolian artists, Stay in hotel
Day 5: Wild Horses National Park Khustain Nuruu Mt. – Mongol Els Sand dunes
After breakfast your travel starts with driving to Khustain Nuruu National Park, where herds of wild horse Przevalskii are re-acclimatizing since 1991, Lunch in restaurant at the national park, Drive to the mountains, Walking and trekking in hills, Explore wild horses -Mongolian name is takhi, Visit information hall displaying about wild horses and flora and fauna in the national park area, Information about the national park and wild horses will be given by accompanying Biologist. Drive to Mountains followed by a brief trek and wait for wild horses to come to spring drinking water. After lunch continue travel to Khogno Khan Nature Reserve Area with Mongol Els sand dunes – local people call it as Elsen Tasarkhai, Free time and relaxing, After dinner you can have a free time to walk on small sand dunes, Today you drive for 320 km, 290 km are on paved road and 30 km are drive on earth road, Stay overnight in ger tourist camp
Day 6: Khara Khorum - UNESCO Cultural Heritage Site - Ogii lake
After breakfast visit to horse breeder's family to explore the nomadic lifestyle and to have talking with nomads about their life and tradition, There is nice chance to try Mongolian national drink-Airag-fermented mare's milk and other milk products, Experience daily activities of local people, Then you will have a chance to enjoy 1 hour horseback riding, Stay overnight in ger tourist camp. After some rest the travel continues with drive to Khara Khorin town, where developed Khara Khorum capital of Great Mongolian Empire founded by Chinggis Khan's songs in 13th century, The town is registered as UNESCO's Cultural Heritage Site and still today it keeps the great history of nomadic Mongols, Here you will visit to Khara Khorum museum, which displays the results of archeaological excavation expedition and history of Mongols in 12-13th centuries, Visit to Monument for Three Great Empires in Mongolian history, located in Orkhon river basin area, Explore the Turtle Rock, Visit to Erdene Zuu Monastery Museum - First and Biggest Buddhist Center in medieval ages and it was closed and badly damaged in1930's by communists, After sightseeing in Khara Khorum town drive you to Khoshoo Tsaidam area on bank of Orkhon river to explore Turkish Rock Inscription-Monuments about Kultigen King of Turkish tribe and battling and Other Historical remains from Turkish Empire, Visit to Tureg's Culture Museum, This Khoshoo Tsaidam area was ruins of Ancient Turkish city, who were very strong in 6-8AD, After that you will drive to Ogii clear water lake wetlands area, Today you will drive for 180 km on paved road. Dinner, Stay overnight in ger tourist camp
Day 7: Ulaanbaatar city
Breakfast, Depart to Ulaanbaatar city, On the way you will explore ruins of ancient White Palace dated to 10th and 17th centuries, located on the bank of Khara Bukha river, Box lunch in open air on the way, Continue drive to Ulaanbaatar city, Transfer to hotel, Dinner at the hotel restaurant, Stay in the hotel
Day 8: Departure
Breakfast, Check-out at the hotel before 12.00 noon, Blue Mongolia Tour guide and driver will see you at the hotel lobby and Make a Transfer to the airport/ train station, Departure

The tour itinerary is subject to be changed at the traveler's request and requirements.
TOUR PRICE
One person : 1990USD
Per person for group of 2 people: 1590USD
Per person for group of 3-4 people: 1540USD
Per person for group of 5-7 people: 1490USD
Per person for group of 8-10 people: 1450USD
Above mentioned price is average amount to give you an idea. The exact amount is varied for everyone depending on number of travelers and service type including how many stars hotels you want to stay in, double or single occupancy you would prefer, what kind of additional service /such as visa support/ is required and so on...
Discount conditions:
• If group is bigger than 16 people: 16 +1pax free of charge
• For Family trip, children 0-4 years old are free of charge
This price INCLUDES:
Transfer to/from airport/hotel, Private transport with driver during the trip including petrol cost, Accommodation at 3 stars hotels in Ulaanbaatar, Accommodations in Ger tourist camps in countryside, Everyday 3 times meals, English speaking tour guide, Entrance fees to protected areas, Entrance fees to sightseeing and museums and cultural shows, rental of outdoor camping equipment, Horse riding fee, Daily supply of mineral water - 0.5L bottle of water per day, invitation letter arrangements for Mongolian tourist visa issue, service fees and government tax.
This price DOES NOT INCLUDE:
International air flight round trip, Travel insurance, medical insurance , Fee for Visa obtaining, Alcoholic beverages, Additional services, Fee for extra luggage, Personal expenses such as IDD call, internet using, laundry, any charge for major force beyond of our control such as the imposition of quarantine restrictions, weather bad conditions, changes of arrival/departure flights, poor roads conditions, etc.
Please, Note:
1. The maximum weight of loaded luggage for domestic flight and vehicle is 10 kg, hand luggage 5 kg. For overweight, each kg will be charged in 1.5USD. Extra luggage can be stored free at hotels in Ulaanbaatar.
2. Hotels in Ulaanbaatar city reserved on double occupancy, and in countryside all Ger styled tourist camps are based on triple or 4 occupancy.
3. Check-in at hotels is at 12:00m/Check-out at hotels is at 12:00m.
!!! Tour itinerary and price may be subject to change.
The duration of the above trip can be prolonged or changed to suit your needs.
Please, make your reservations at your earliest convenience.