TENT CAMPING & WILDLIFE TRAVEL
Tour code: MN-5
Seasons to be arranged: June-September
Duration: 10 nights & 11 days
Group size: 1 or up to 15 pax in a group
Total distance: 600 km by plane, 2000 km by jeep, 5 km by horse, 5 km by camel
Activity: 1 hour horse riding, 1 hour camel riding, hiking 2 hours, meeting with nomads
Trip Background Details: Hustain Nuruu -Wild Horses National Park , Khara Khorum Area , Khangain Nuruu National Park, South Gobi Desert area, Ulaanbaatar city
Outdoor & tent camping travel in Mongolia will give you chance to enjoy the nature beauty and feel more close to nature and our earth. Tent camping on the bank of river makes you enjoy with river water sound, in the forest: the sound of trees leaning in the wind, in vast steppe: very quiet environment makes to sleep very well. During tent camping, some visitors may visit to your tent like naughty baby goats, small children or dog from a nomad family. Other fun and adventures are in front of you. The outdoor travel includes excursions to main worth-seeing places like: Gobi desert with big sand dunes, Khara Khorum and Khustain Nuruu National Park, where herds of wild horses have been re-acclimatized since 1991.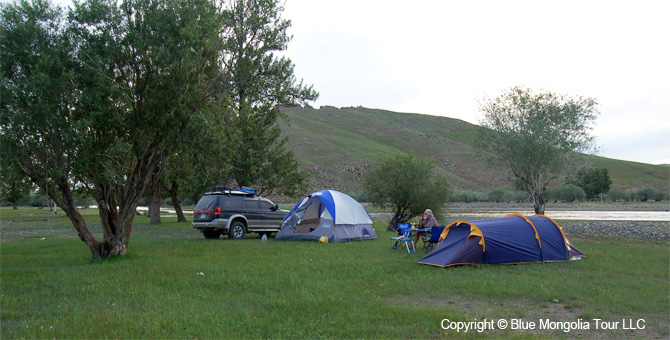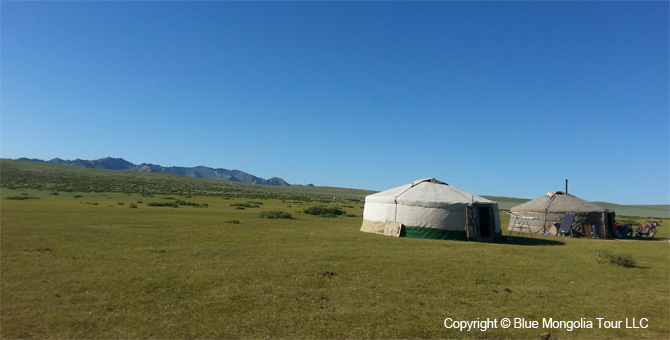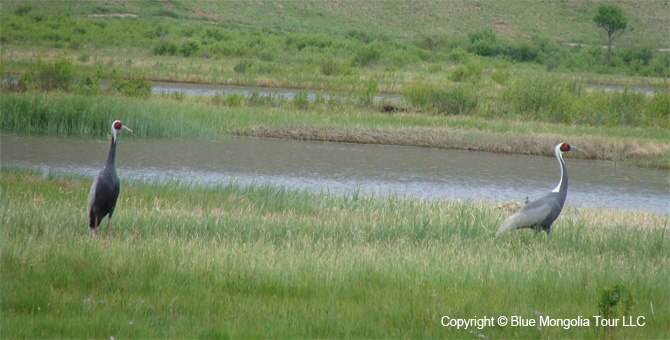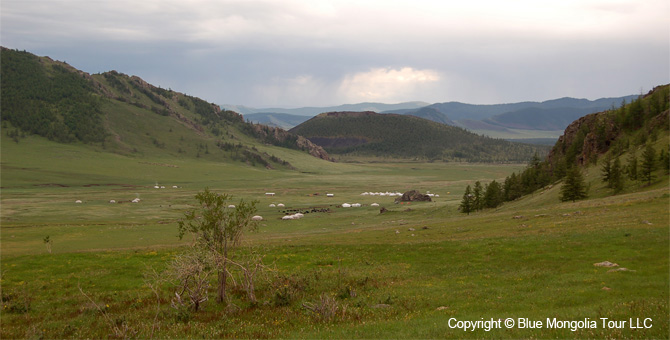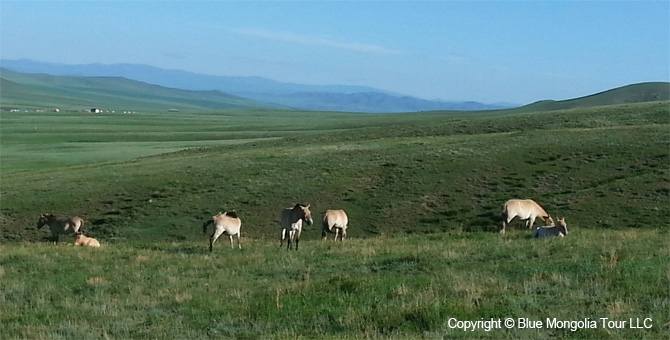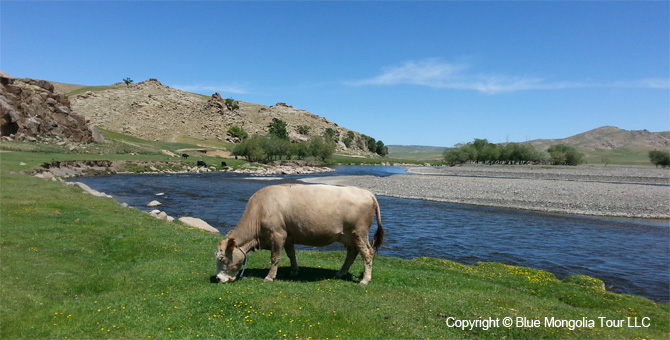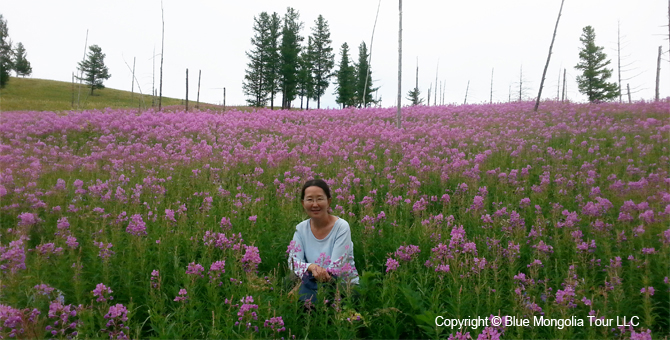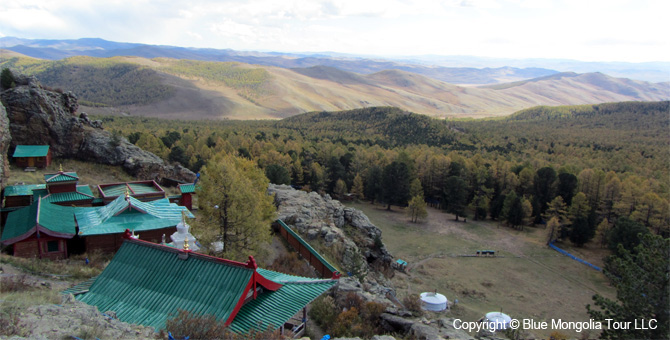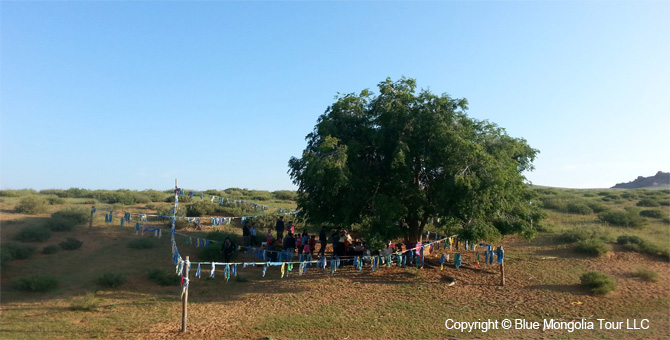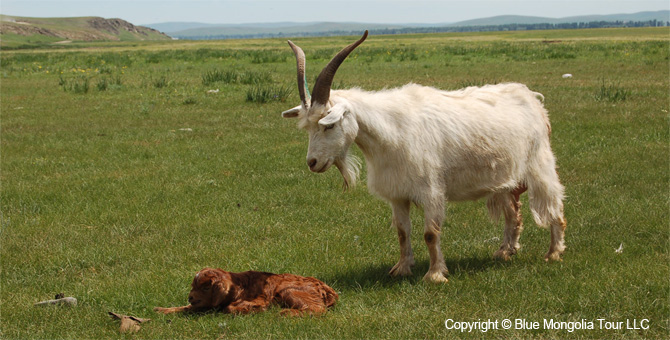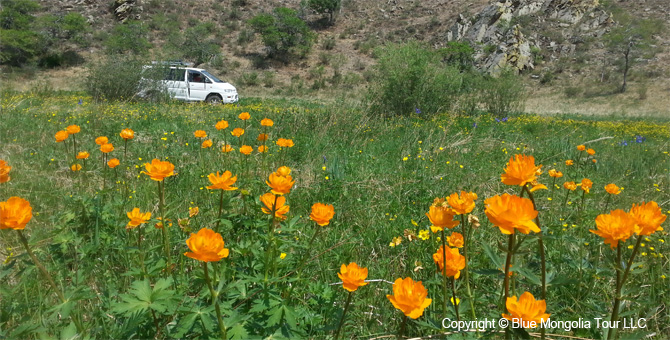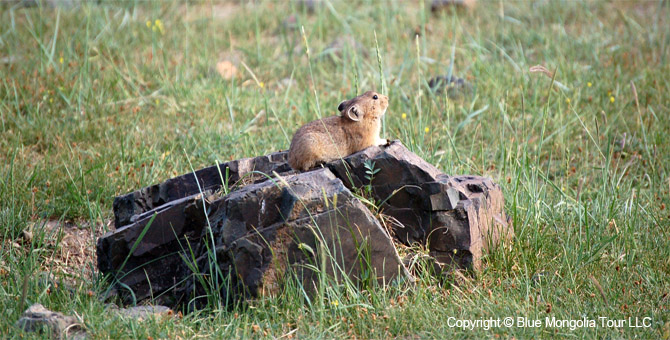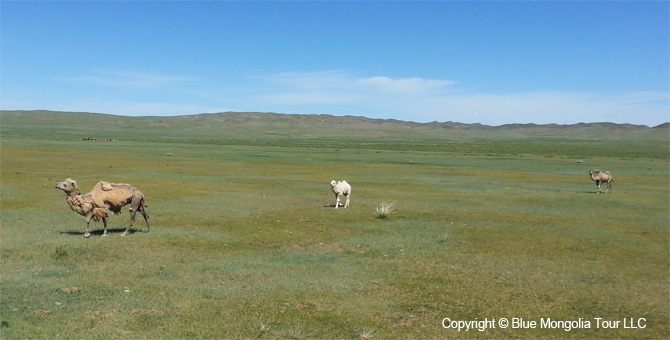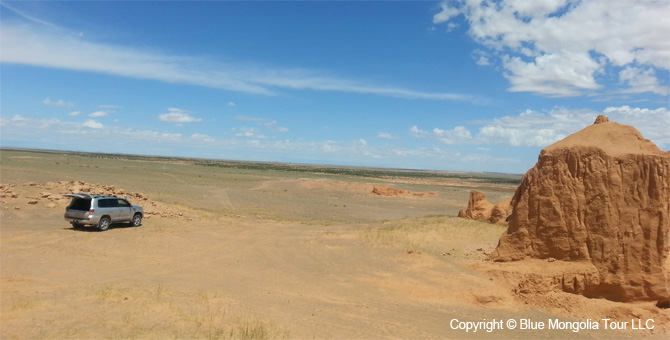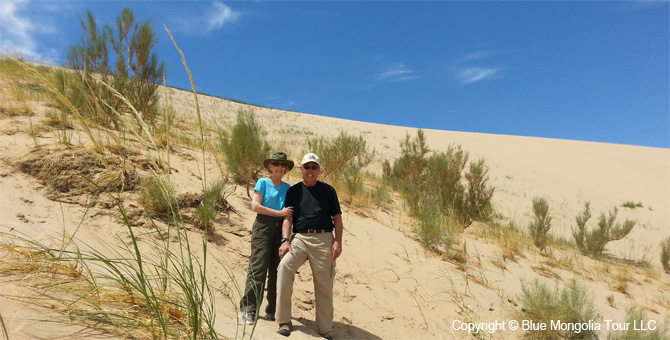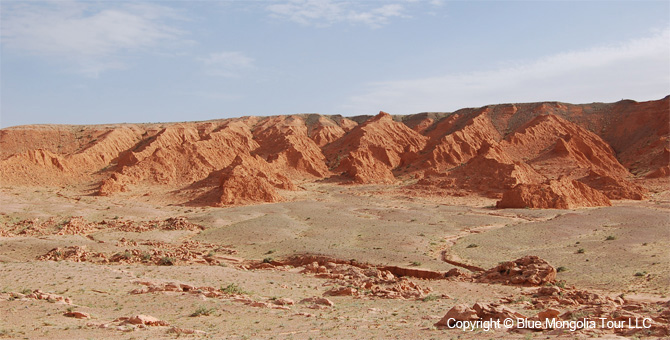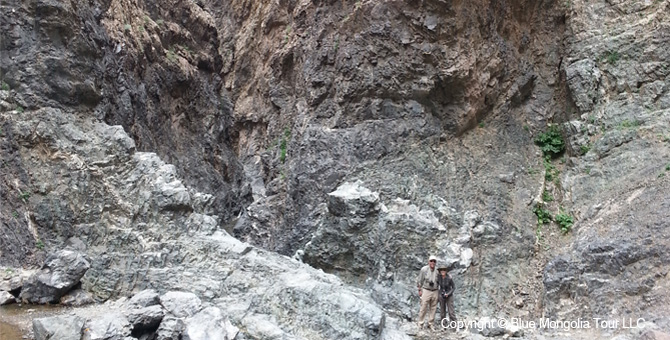 Day 1: Ulaanbaatar capital
Arrival in Ulaanbaatar city, capital of Mongolia. You will be greeted by Blue Mongolia Tour guide and escorted to the hotel, Check in hotel, Free time and relaxing hours, Stay in hotel
Day 2: Khustain Nuruu Wild Horses National Park - Khogno Khan Nature Reserve
Breakfast at the hotel, Our tour guide and driver will greet you at the hotel lobby, Tour starts with Driving to Khustain Nuruu National Park, where herds of wild horse Przevalskii are re-acclimatizing since 1991, Drive to the mountains, Walking and trekking in hills, Explore wild horses -Mongolian name is takhi, Visit information hall displaying about wild ghorses and flora and fauna in the national park area, After lunch drive to Khogno Khan Nature Reserve Area, Accommodate at ger tourist camp near by Elsen tasarhai sand dunes, Free time and relaxing, Today you will drive for 340 kms on earth road, Dinner, Stay overnight in tent camping
Day 3: Khara Khorum - UNESCO Cultural Heritage Site
Breakfast, our tour starts with drive to Khara Khorin town, where developed Khara Khorum capital of Great Mongolian Empire founded by Chinggis Khan's songs in 13th century, The town is registered as UNESCO's Cultural Heritage Site and still today it keeps the great history of nomdic Mongols, Here you will visit to Khara Khorum museum, which displays the results of archeaological excavation expedition and history of Mongols in 12-13th centuries, After lunch Visit to Monument for Three Great Empires in Mongolian history, located in Orkhon river basin area, Explore the Turtle Rock, Visit to Erdene Zuu Monastery Museum - First and Biggest Buddhist Center in medieval ages and it was closed and badly damaged in1930's by communists, Today you will drive for 120 kms on paved road. Today driving distance is 120 kms on paved road, Dinner, Stay overnight in ger tourist camp

Day 4: Tovkhon buddhist temple in Khangain Nuruu Natioal Park
Breakfast, today you will drive to Tovkhon temple in beautiful mountainous area of Khangain Nuruu National Park, Take your small travel bag and start hiking to Shiveet Hill on mountain's path, app: up to 2 hours you will reach the top of mountain, Visit to Buddhist temple Tovkhon- Temple of Great Joy, Box lunch in open air, Hiking to small cave called mother belly, meditation caves, meditation rock seat in the sun, If you do yoga or meditation, this is the perpect place for your interest, Hiking to the peak of hill with stupa, where the surrounding nature view looks fascinating, Trekking down to the bottom of the mountain, free time and refreshing drinks near the vehicle, Drive to tourist camp, After dinner you can drive to ancient deer monuments and complex of graves dated to III.B.C. Today driving distance is 80 kms on earth road, Stay overnight in tent camping

Day 5: Buddhist Temple Ruins at bank of Ongi River
After breakfast you will have safari and full day drive to Ongi River basin area, On the way you will have box lunch and enroute stops for drinks, photographing, discovering nature views and so on.., After accommodating in ger tourst camp you have a walking trip to Ongi Buddhist Temple ruins, These Ongi temple ruins are damaged by communist people by 1937-1939 and later by 1999 one temple was restored and it became the present information center, If you like hiking, trekking visit to God Figure on the hill, Free time and Dinner, Today driving distance is 390 kms on earth road, Stay overnight in tent camping

Day 6: Bayanzag Flaming cliffs & Khongor Sand dunes in Gobi Three Beauties National park
Breakfast, today you have an excursion to very interesting paleontological area in South gobi desert, you will drive to Bayanzag Flaming cliffs, which is called the Dinosaurs' land, Here dinosaurs' fossils were found in 1922, later its dimension was used in Jurassic Park movie, Explore Saksaul forest -Gobi native tree - in Gobi steppe, Box lunch near cool spring in open air, Driving in Gobi steppe to Khongor picturesque sand dunes with width of 150 km and 300 m height, Rest in tourist camp, Dinner, Today driving distance is 310 kms on earth road, This day driving distance is 310 km and it takes 8-9 hours driving, Stay overnight in tent camping
Day 7: Khongor sand dunes in Gobi Three Beauties National park
Breakfast, today you have an acclimatization day near the Khongor Sand dunes, You will enjoy some activities like: Hiking to sand dunes and enjoy with skiing down from dunes, Explore the fascinating view of sand hills and rocky mountain ranges of Khatan Sevrei, This is the very suitable place for photographing, Trekking to cool spring near the sand hills, After lunch visit local camel breeder family to discover the Gobi lifestyle and try diary products from camel milk, 1-2 hours camelback trekking along sand dunes, neighboring to big mountain ranges, Free time, Dinner, Stay in tent camping
Day 8: Yollun Gorge in Gobi Three Beauties National park
After breakfast your trip will start with driving to Yollun Gorge in mountain of Gobi Three Beauties, On the way you can have chance to explore wild ass and herd of gazelles in Khavtsgait valley, After accommodating and lunch at the ger tourist camp, you will visit the beautiful Vulture Gorge, Trekking and photographing spectacular high cliff walls, wild animals such as eagle and wild sheep, glacier, At opening of the valley is an information hall about the National park as displaying interesting stuffed animals, herbaries and fossils, Dinner, Today driving distance is 290 kms on earth road, Stay overnight in Ger tourist camp
Day 9 : Ulaanbaatar city
In the morning early by 7a.m drive to Dalanzadgad airport, Fly to Ulaanbaatar city, In the airplane you will have breakfast, Arrival in Ulaanbaatar city and Transfer to hotel, Free time, After lunch you will visit to main Square Sukhbaatar, War Memorial & Friendship Monument on Zaisan hill, Free time for shopping the main street shops, art shops and antique shops, Dinner, Stay in hotel
Day 10: Ulaanbaatar city
Breakfast, City Tour including Visits to Gandantegchilen Monastery- Present biggest monastery, which houses for giant standing Buddha statue, National History Museum gives you real insight into Mongolian origin and history, After Lunch Visit to Paleontology Museum, which offers nice chance to see petrified dinosaur skeletons and nestled eggs, By 6p.m in the evening you will enjoy National Folk Performance Concert with songs and contortion acts, Dinner, Stay in hotel
Day 11: Departure
Breakfast, Check-out at the hotel before 12.00 noon, Blue Mongolia Tour guide and driver will see you at the hotel lobby and Make a Transfer to the airport/ train station, Departure

The tour itinerary is subject to be changed at the traveler's request and requirements.
Tour dates

For Solo traveller and private trips: Free choice for dates
In case of making a group as joining: 4 June, 14 June, 24 June, 6 July, 17 July, 25 July, 31 July
4 Aug, 15 Aug, 20 Aug, 28 August, 3 Sep, 11 Sep, 19 Sep
Tour price

Solo Traveller: 2590USD
Per Person for group of 2 people: 2290USD
Per Person for group of 3-4 people: 2190USD
Per Person for group of 5-8 people: 1990USD
This price INCLUDES:
Private Transfer to/from airport/hotel and hotel/airport, Private transport with driver during the trip including petrol cost and road tolls, Accommodation at hotels with 3 stars in Ulaanbaatar- standart rooms for single or twin occupancy, Accommodations in Ger tourist camps in countryside, Everyday 3 times meals and hot drinks such as cups of coffee and tea, English speaking tour guide service, Domestic flight from Gobi Desert to Ulaanbaatar city, Entrance fees to protected areas and national parks, Entrance fees to sightseeing and museums and cultural shows in city, Renting fee for outdoor cmaping gears: tent, mattrass, sleeping bag, bed linens, kitchen staffs, tent lights, travel chairs and table, Horse riding and camel riding fees, Daily supply of mineral water - 0.5L bottle of water per day, invitation letter arrangements for mongolian tourist visa issue, service fees and government tax.
This price DOES NOT INCLUDE:
International air flight round trips, international train tickets, Travel insurance, medical insurance, Fee for Mongolian tourism visa obtain, Alcoholic bewerages, Additional and optional services, Fee for extra luggages, Personal expenses such as laundry service, any charge for major force beyond of our control such as the imposition of quarantine restrictions, weather bad conditions, changes of arrival/departure flights, poor roads conditions and single supplements for ger tourist camps = 20USD per night and etc.

Please, Note:
1. The maximum weight of loaded luggage for domestic flight and vehicle is 15-20 kg, hand luggage 5 kg. For overweight, each kg will be charged in 3USD. Extra luggage can be stored free at hotels' luggage rooms in Ulaanbaatar.
2. If you want to use your own outdoor camping gears such as mattrass and sleeping bags or bed linen, you can bring it with yourself. If you gave special requested items for outdoor camping, Please, Let Blue Mongolia tour manager to pack for yourself in advance.
3. Hotels in Ulaanbaatar city reserved on double occupancy, and in countryside all Ger styled tourist camps are based on triple or 4 occupancy.
4. Check-in at hotels is at 1:00p.m/Check-out at hotels is before 12:00m.
!!! Please, make your reservations at your earliest convenience.