MONGOLIA EXPRESS TOUR
Tour code: MN-3
Seasons to be arranged: Year Around
Duration: 4 days
Group size: Any between 1- 45 pax
Tour grade: Easy
Total distance: 200 km by jeep, 5 km by horse
Activity: 1 hour horse riding, hiking 2 hours, meeting with nomad
Trip Background Details: Terelj National Park, Ulaanbaatar city
This express travel is more suitable for visitors, who want to discover Mongolia in quick glimpse. This travel offers a visit to Terelj National Park, which is impressive land with its amasing rock formations, rocky hills and green grassland. There you will see giant Turtle rock formation made by nature and wind. Also there will be organised horseback riding to small Buddhist temple, walking in green hills carpeted with wild flowers and visit to modern mongolian family. Another highlight is Ulaanbaatar city tour, which includes several interesting things: Mongolian National History Museum tells Mongolian history including Chinggis Khan period and communist regime. Also Mongolian Folklore concert will present you amasing acts such as contortion, throat singing, shaman dance and so on..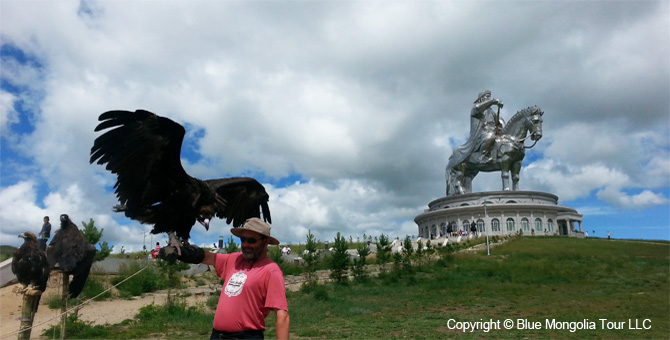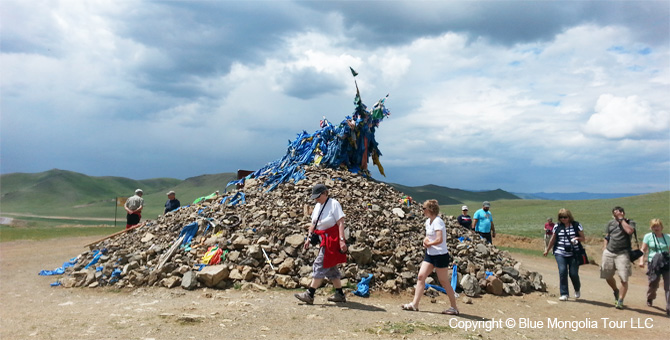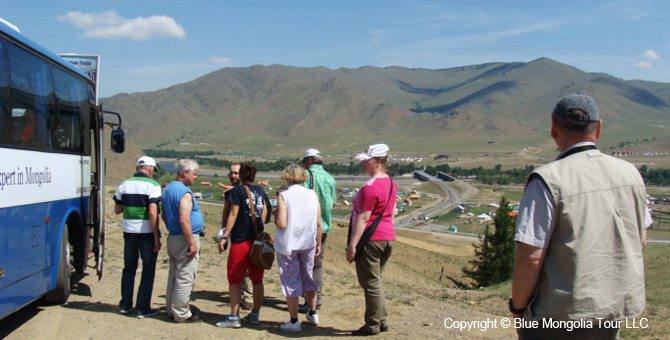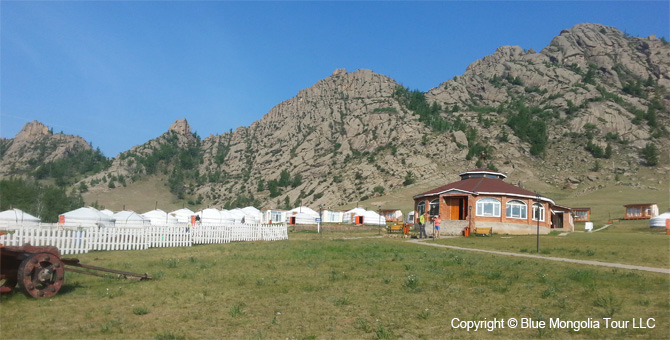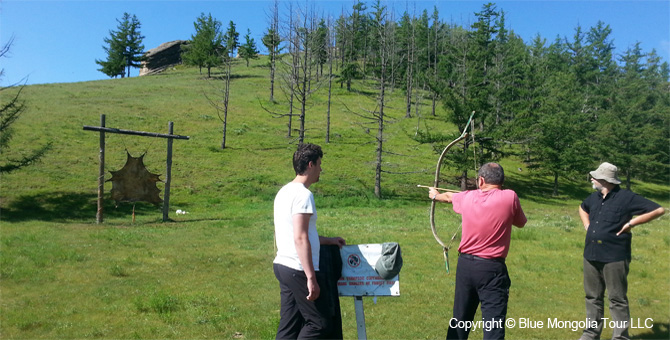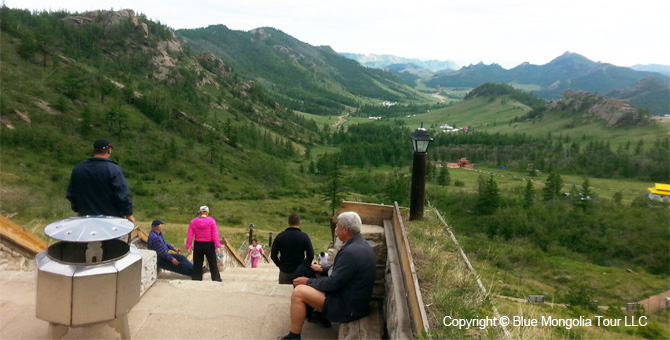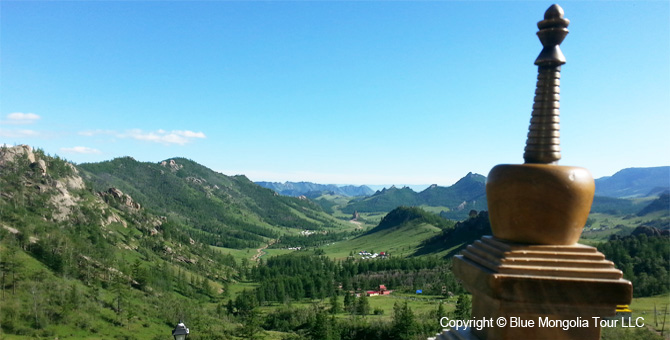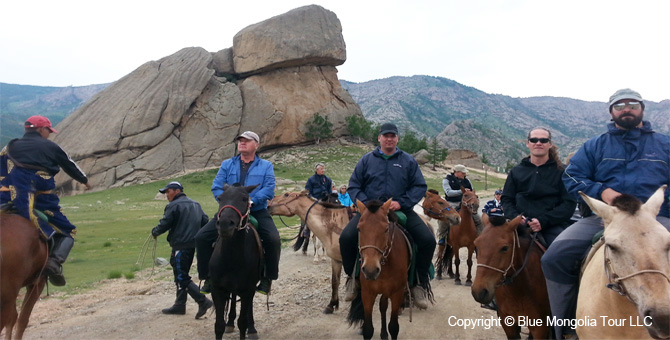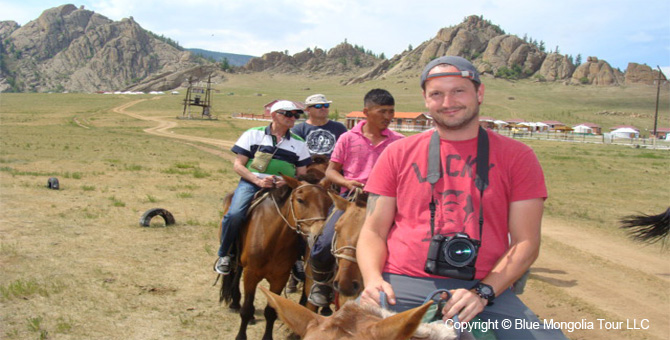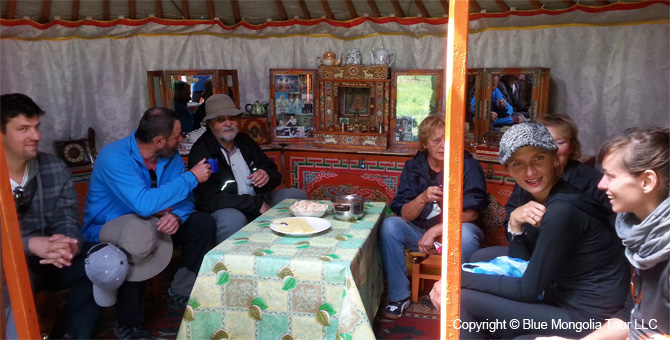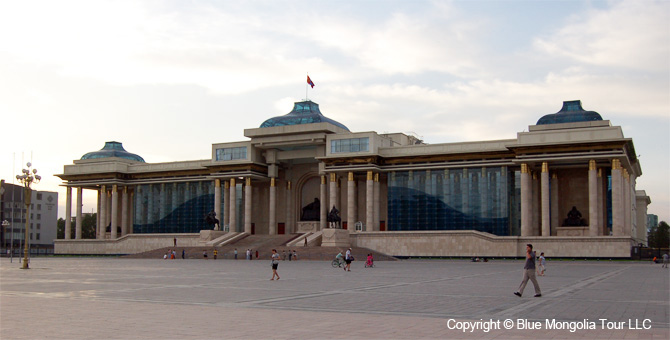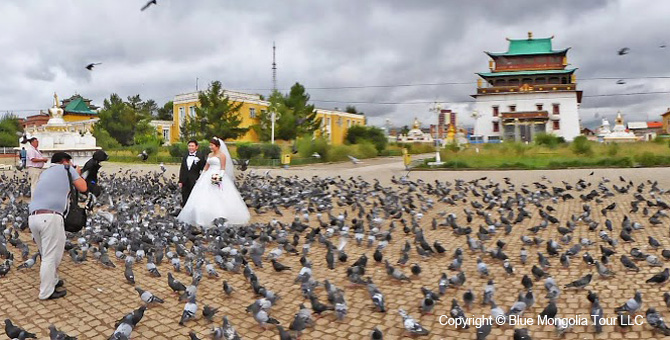 Day 1: Ulaanbaatar capital
Arrival in Ulaanbaatar city, capital of Mongolia. You will be greeted by Blue Mongolia Tour guide and escorted to the hotel, Check in hotel, Free time and relaxing hours, Stay in hotel
Day 2 : Chinggis Khan Statue - Terelj National Park
After breakfast by 8a.m our tour will start as heading to the east direction of Ulaanbaatar city, Driver will take us to the Chinggis Khan Statue, which is designed as Chinggis Khan is mounting on the horseback and holding his golden whip in his right hand, The statue is located on Tsonjin Boldog hill and complex area is called Golden whip, Inside of the statue you are welcomed with several surprices: watch the portraits of Chinggis Khan's descendants, very big mongolian boot with size of 4460, historical halls for Great Mongolian Empire and collections dated to Huns Empire (3-1th B.C), You will have a chance to observe the surrounding nature and statue on the higher place on mane of the horse, After Chinggis Khan statue visit the travel continues to Terelj National Park, On the way we will explore Ovoo-the pile of stones, which was set for the god of nature and blue sky based on shamanic rituals. There are some fun to explore the beautiful granite rocky hills, nomads home-Ger and their livestock in the pasture, After lunch we will explore the Turtle Rock natural rock formation, there is chance to have a easy trekking on the green meadow, hiking to low rolling hills, Explore the green valleys, for some people it might be great idea to have 30 minutes rest at the camp, in the afternoon nomad family will welcome you to visit to their home-Ger, they will let us explore the nomadic lifestyle and as well as to try traditional milk products: tea with milk, dried curds, mare's fermented milk, yougurt, milk cream butter and so on.., If you are eager to talk to nomads about what you want to know about the nomadic lifestyle, it is possible. One hour horseback riding activity is optional. Then you will have free time for rest of 30 min, Stay overnight in the tourist camp
Day 3: Ulaanbaatar city tour
Breakfast, Drive to Ulaanbaatar city, City tour including visits to Gandantegchilen Monastery- Present biggest monastery, which houses for giant standing Buddha statue, National History Museum gives you real insight into Mongolian origin and history, Lunch, Paleontology Museum offers nice chance to see petrified dinosaur skeletons and nestled eggs, Visit main square Chinggis Khan, Friendship Monument on Zaisan hill, Free time for shopping the main street shops, art shops and antique shops, National Folk Performance Concert with songs and contortion acts, Dinner, Stay in hotel
Day 4: Departure
Breakfast, Check-out at the hotel before 12.00 noon, Blue Mongolia Tour guide and driver will see you at the hotel lobby and Make a Transfer to the airport/ train station, Departure

TOUR PRICE
One person: 690USD
Per Person for group of 2 people: 590USD
Per Person for group of 3 people: 490USD
Per Person for group of 4 people: 450USD

This price INCLUDES:
Private Transfer to/from airport/hotel and hotel/airport, Private transport with driver during the trip including petrol cost and road tolls, Accommodation at hotels with 3 stars in Ulaanbaatar- standart rooms for single or twin occupancy, Accommodations in Ger tourist camps in countryside, Everyday 3 times meals and hot drinks such as cups of coffee and tea, English speaking tour guide service, Entrance fees to protected areas and national parks, Entrance fees to sightseeing and museums and cultural shows in city, Horse riding and camel riding fees, Daily supply of mineral water - 0.5L bottle of water per day, invitation letter arrangements for mongolian tourist visa issue, service fees and government tax.
This price DOES NOT INCLUDE:
International air flight round trips, international train tickets, Travel insurance, medical insurance, Fee for Mongolian tourism visa obtain, Alcoholic bewerages, Additional and optional services, Fee for extra luggages, Personal expenses such as laundry service, any charge for major force beyond of our control such as the imposition of quarantine restrictions, weather bad conditions, changes of arrival/departure flights, poor roads conditions and single supplements for ger tourist camps = 20USD per night and etc.

Please, Note:
1. Hotels in Ulaanbaatar city reserved on double occupancy, and in countryside all Ger styled tourist camps are based on twin or triple occupancy.
2. Check-in at hotels is at 1:00p.m/Check-out at hotels is before 12:00m.
!!! Please, make your reservations at your earliest convenience.