KHORGO VOLCANO - TERKH WHITE LAKE NATIONAL PARK
KHORGO VOLCANO - TERKH WHITE LAKE NATIONAL PARK
HOW TO GET: by jeep: 690 kms and 15 hours driving, 1 night & 2 days drive
Khorgo Volcano & Terkhiin Tsagaan Nuur National park was established in 1964 to protect the spectacular mountain scenery and endangered species of fauna and flora. The area has extinct volcanoes, some beautiful lakes, a great number of animals and birds. It is definitely one of the best natural tourist attractions for jeep expidition takers, adventure seekers, nature lovers and outdoor camping tourists.

Amid volcanic craters, pine-clad lava fields and the occasional herd of grazing yaks, the pituresque white lake, as it's known in English, is the natural highlight of central Mongolia. The lake, birdlife and extinct volcanoes, wild water rivers, and Khangai mountains, which reach as 3000 meters above see level, are now protected within the 77 thousand hectares.
Khorgo Extinct volcano
Khorgo Mountain is a dead volcano which lies on the west of Traiat village of Arkhangai province. the Terkhiin Tsagaan Lake in Arkhangai province. (GPS: N48° 11.187', E99° 51.259'). The Khorgo crater, situated at an altitude of 2.210 meters with a diameter of 20 meters and depth of 70 to 80 meters, is the most interesting at all. There is no lake in this crater, but clouds of steam jet out it is crevices forming ice moulds in winter, which from a distance look like large flocks of sheep scattered on the mountain. Near the crater there are dozens of small caverns with stalactites hanging from their ceiling and walls.
About 8000 years ago volcanic lava flooded the valleys nearby which are covered today with small forests of Sibirian larch and a great variety of berries and flowers. In the woods there are lots of deer, wild goat and other animals, as well as various kinds of birds such as Red Deer, Siberian Deer, Wild Boar, Ruddy Shelduck and Duck.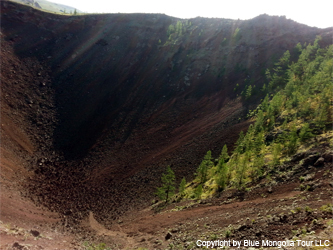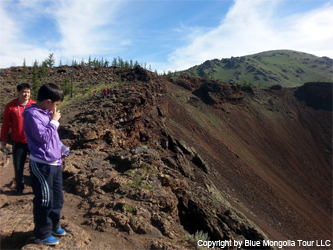 Terkhiin Tsagaan Lake
Terkhiin Tsagaan Lake is an astonishingly beautiful lake with crystal clear fresh water. Torrents of lava issuing from the Khorgo volcano blocked the north and south Terkh rivers, so forming the dammed lake of Terkhiin Tsagaan Nuur at an altitude of 2.060 meters above sea level. The lake is 16 kilometers wide, 4 to 10 meters deep and 20 kilometers in length, a total of 61 sq.meters. The lake supports Pike and other fish. Rare birds are found here. The lake water is frosen in winter time and it melts by mid of May completely.
According to legend, the lake was formed when an elderly couple forgot to cap a well after fetching water. The valley flooded with water until a local hero shot a nearby mountain top with his arrow; the shorn top covered the well and became an island in the lake (Noriin Dund Tolgoi).
The lake is excellent for swimming, though a bit cold in the morning – try the late afternoon, after the sun has warmed it. Hidden along the shore are stretches of sandy beach, perfect for lounging with a book or fishing line. The fishing is great, though you should get a permit for around 10000togrog per day.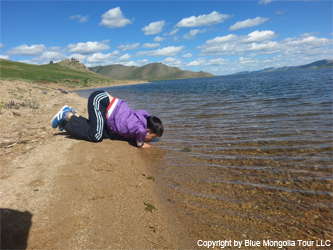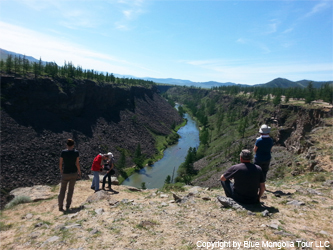 Shar Nohoin aguin Am
Shar Nohoin Am is a cave formed by cooling lava as it flowed away from a volcanic vent. There is a legend, why it is called as Yellow dog cave. A hunter has a yellow dog and they were always traveling together. The man has an accident one day and he fell in this big hole of frosen cave and and injured seriously, could not got out of this big ravine. His yellow dog jumped into the ravine -2o meters deep and helped his owner to get out of it and the dog saved his owner life.
Chuluut River and Choidog Borgio
Chuluut - Stone river gets its sourse from Khangai Mountain range and flowing down in valleys of Khangai and reaches with Delger and Ider rivers and makes one big river Selenge in centralpart of Mongolia.
Chuluut river is the excellent destination for fishermen, specailly for taimen lovers and wolf-taimen seekers. The fish lenth reaches 80 sm up to 150 sm and weight is 15-45lbs. Siberian taimen is aggressive fish, which feeds on anythings even such as minnows, fry, mature grayling, some small birds or rodents.
Choidog Borgio is one of the sportive and wild white water point for rafters and canoers.