DOG SlEDDING IN TERELJ PARK
Tour code:
MN-75
Seasons to be arranged:
1 December - 20. Febrary
Duration:
8 days
Number of travelers:
1-10 people
Total distance:
200 km by jeep, 100 km by dog sledding
Activity:
5 days dog sledding, meeting with nomads
Specially advised to pack:
your own gourmet for riding: hat, boots, gloves and others, hiking good shoes, sun glasses and sun hat, binocular, mosquito repellent crème, your favorite delicacies
Trip Background Details:
Terelj National Park, Chinggis Khan Statue, Ulaanbaatar city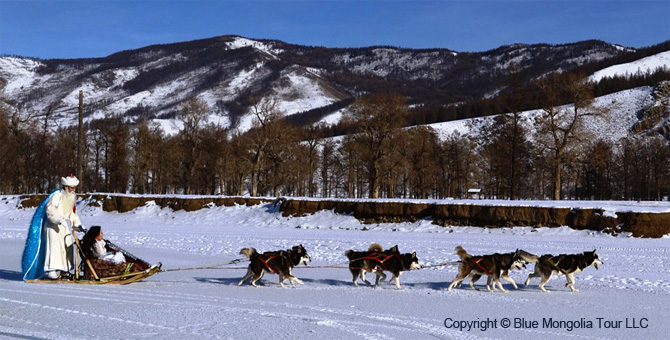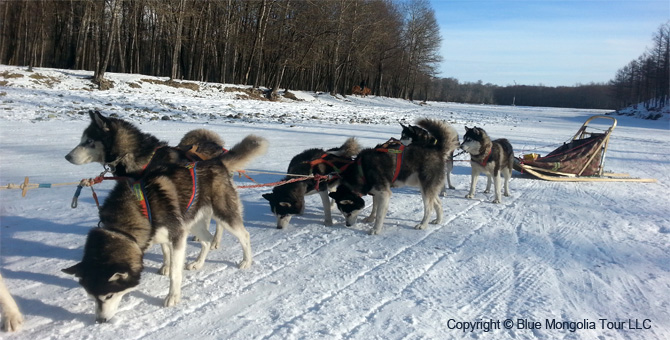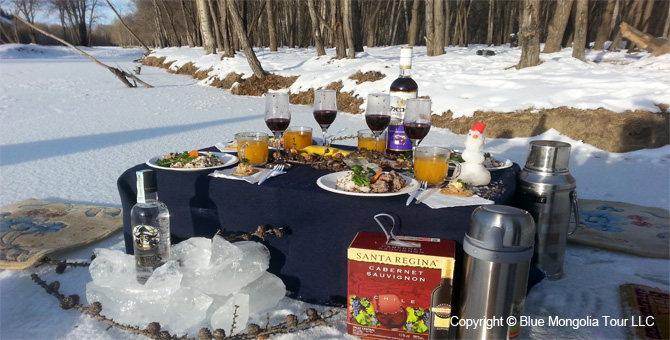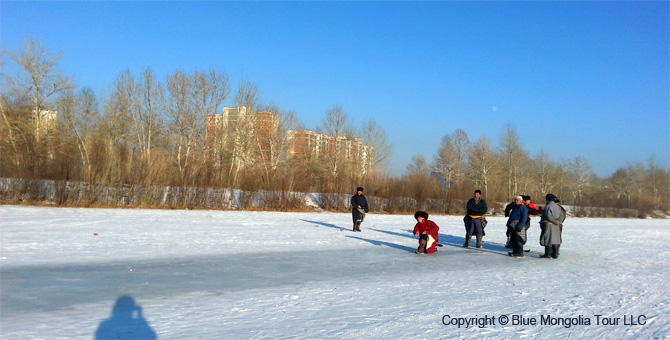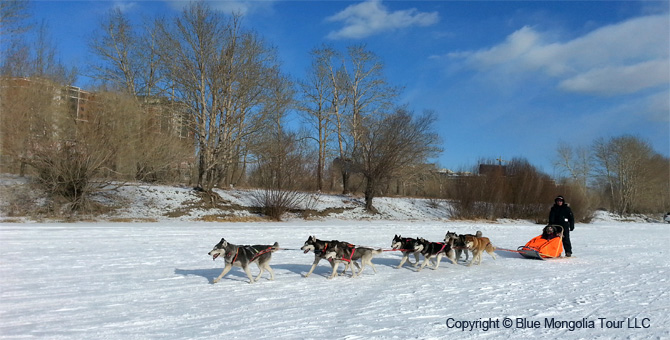 Day 1: Ulaanbaatar capital
Arrival in Ulaanbaatar city, Meeting assistance upon arrival by Blue Mongolia Tour agency representative and transfer to Hotel with 3 stars. Rest of the day at leisure to adjust to time difference.
Day 2 : Terelj National Park
After breakfast you will drive to Terelj National Park, one way is 75 km, On the way explore Ovoo- the pile of stones, which was set for the god of nature and blue sky. Exploring the beautiful granite rocky hills, nomads home-Ger and their livestock in the pasture, Visit to Protected area, Explore the Turtle Rock, Soft trekking on the green meadow, Hiking to hills, Explore the green valleys, Trekking in the surrounding area, Drive to Terelj tourist camp, You will have european styled lunch in the camp restaurant, 30 minutes rest and soft trekking around the camp, Visit to nomads family home-Ger, Explore the nomadic lifestyle, try traditional milk products such as tea with milk, dried curds, mare's fermented milk, yougurt, milk cream butter and so on.., Talking to nomads about what you want to know about the nomadic lifestyle, One hour horseback riding and free time for rest, Stay overnight in the tourist camp
Day 3: Dog Sledding in Terelj River basin area
Today you will start the dog sledding as heading to Terelj River via Dorvoljinii valley, When you want to take pictures and have some soft drinks, you can get off the dog cart and have some rest for a while, The tour guide or our chef will prepare you the picnic lunch and dinner in these days, you will arrive in Terelj basin area and you will have outdoor tent camping on the bank of Terelj river, After dinner if you want you can have a bon fire and have talking about some topics with your guide, Stay overnight in tent camping
Day 4-6: Dog Sledding
Everyday you will have breakfast in open morning fresh air, your tour guide and dog guide will check your dogs and carts and make some preparation, when the dogs are equipped with cart and reigns, when they are ready, you will start the dog sledding tour, In these days you will travel with your horse several places: Terelj River basin area, Chinggis Khan Statue on Tsonjin Boldog hill, Visit to nomad family, Ancient Rock Inscription for King Kultegin and for his great honour and great victory from Blue Turkish tribe, dated to 640-870A.D, The sacred mountains Suldet and Tamgan, and 13th Century Tourist Complex Area. In this days you will have picnic lunch and dinner and you will have outdoor tent camping. In the evening hours, you can arrange an enjoy with bon fire or wine/beer party for yourselves. In this case our tour guide will help you to collect woods and take to the shop to buy the alcoholic beverages.

Chinggis Khan Statue, which is designed as Chinggis Khan is mounting on the horseback and holding his golden whip in his right hand, The statue is a part of complex area is called Golden whip, Inside of the statue you are welcomed with several surprises: watch the portraits of Chinggis Khan's descendants, very big Mongolian boot with size of 4460, historical halls for Great Mongolian Empire and collections dated to Huns Empire (3-1th B.C),
Day 7 : Ulaanbaatar city tour
After breakfast you will say goodbye to your dogs and dog guide and you will drive to Ulaanbaatar city, City tour including visits to Gandantegchilen Monastery- Present biggest monastery, which houses for giant standing Buddha statue, National History Museum gives you real insight into Mongolian origin and history, Lunch, Paleontology Museum offers nice chance to see petrified dinosaur skeletons and nestled eggs, Visit main Square Sukhbaatar, Friendship Monument on Zaisan hill, Free time for shopping the main street shops, art shops and antique shops, National Folk Performance Concert with songs and contortion acts, after dinner transfer to the hotel, Stay in hotel
Day 8: Departure
Breakfast, Check-out at the hotel before 12.00 noon, Blue Mongolia Tour guide and driver will see you at the hotel lobby and Make a Transfer to the airport/ train station, Departure

The tour itinerary is subject to be changed at the traveler's request and requirements.
Tour Price
Solo Traveller: USD2200
Per Person for group of 2 people: USD1990
Per Person for group of 3-4 people: USD1790
Per Person for group of 5-9 people: USD1690
Above mentioned price is average amount to give you an idea. The exact amount is varied for everyone depending on number of travelers and service type including how many stars hotels you want to stay in, double or single occupancy you would prefer, what kind of additional service /such as visa support/ is required and so on...
Discount conditions:
• If group is bigger than 16 people: 16 +1pax free of charge
• For Family trip, children 0-9 years old are free of charge
This price INCLUDES:
Private Transfer to/from airport/hotel and hotel/airport, Private transport with driver during the trip including petrol cost and road tolls, Accommodation at hotels with 3 stars in Ulaanbaatar- standart rooms for single or twin occupancy, Accommodations in Ger tourist camps in countryside, Everyday 3 times meals and hot drinks such as cups of coffee and tea, English speaking tour guide service, Entrance fees to protected areas and national parks, Entrance fees to sightseeing and museums and cultural shows in city, Renting fee for outdoor camping gears: tent, mattrass, sleeping bag, bed linens, kitchen staffs, tent lights, travel chairs and table, Horse riding and camel riding fees, Daily supply of mineral water - 0.5L bottle of water per day, invitation letter arrangements for mongolian tourist visa issue, service fees and government tax.
This price DOES NOT INCLUDE:
International air flight round trips, international train tickets, Travel insurance, medical insurance, Fee for Mongolian tourism visa obtain, Alcoholic bewerages, Additional and optional services, Fee for extra luggages, Personal expenses such as laundry service, any charge for major force beyond of our control such as the imposition of quarantine restrictions, weather bad conditions, changes of arrival/departure flights, poor roads conditions and single supplements for ger tourist camps = 20USD per night and etc.

Please, Note:
1. The maximum weight of loaded luggage for domestic flight and vehicle is 15-20 kg, hand luggage 5 kg. For overweight, each kg will be charged in 3USD. Extra luggage can be stored free at hotels' luggage rooms in Ulaanbaatar.
2. If you want to use your own outdoor camping gears such as mattrass and sleeping bags or bed linen, you can bring it with yourself. If you gave special requested items for outdoor camping, Please, Let Blue Mongolia tour manager to pack for yourself in advance.
3. Hotels in Ulaanbaatar city reserved on double occupancy, and in countryside all Ger styled tourist camps are based on triple or 4 occupancy.
4. Check-in at hotels is at 1:00p.m/Check-out at hotels is before 12:00m.
!!! Please, make your reservations at your earliest con