GOBI DESERT WILDLIFE TRAVEL
Tour code: MN-18
Seasons to be arranged: May-October
Duration: 11 nights & 12 days
Number of travelers: Available for solo traveler, 2-4 people, group max of 20 people
Tour grade: Easy
Total distance:700 km by plane, 1000 km by jeep, 5 km by horse, 5 km by camel
Activity: 1 hour horse riding, 1 hour camel riding, hiking 2 hours, meeting with nomads
Specially advised to pack: Hiking good shoes,
sun glasses and sun hat, binocular, mosquito repellent creme, your favorite delicacies
The tour is dedicated for nature lovers and wildlife watchers in steppe and gobi desert national parks. The travel will allow you to watch the nature view and landscape of steppe, mountains, rock hills, and desert, as well as discover its flora and fauna of steppe and gobi desert area. The highlighted animals for watching during this travel are: wild horses, mountain deers, Mongolian marmot, steppe eagle, lynx, Siberian white cranes and blue cranes, Argali Wild Mountain Sheep and white tailed and black tailed gazelle herds, wild ass. Besides that you will see 18000 thousands of tracks of predatory and vegetarian dinosaurs, who were living 70 millions years ago in present gobi desert, as well as more than 3000 rock paintings painted by men 5000-8000 years ago.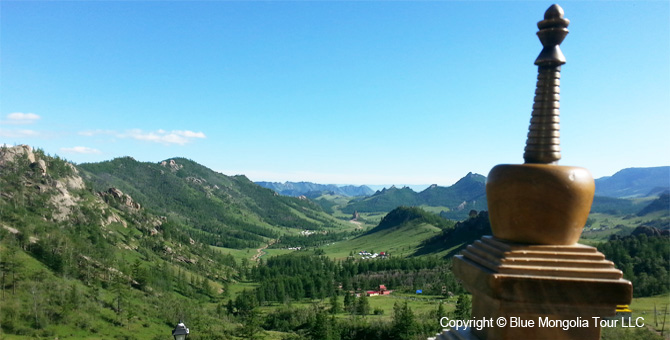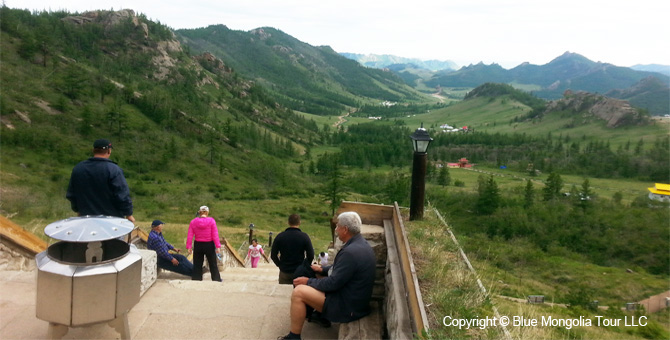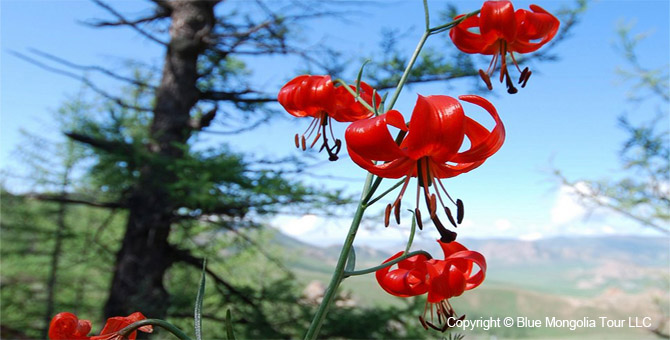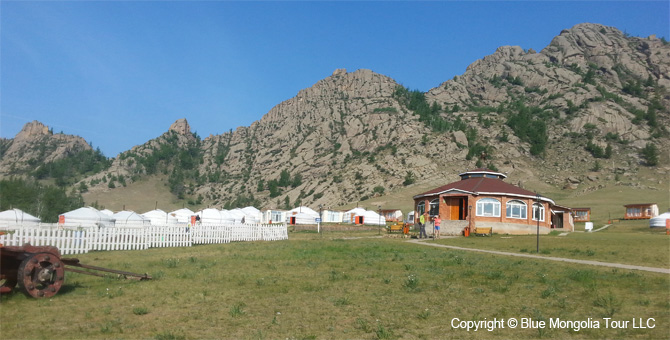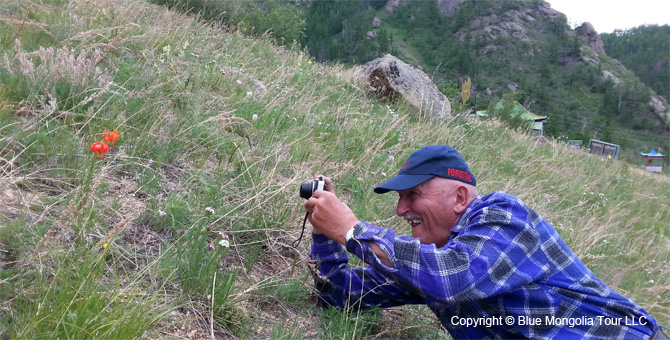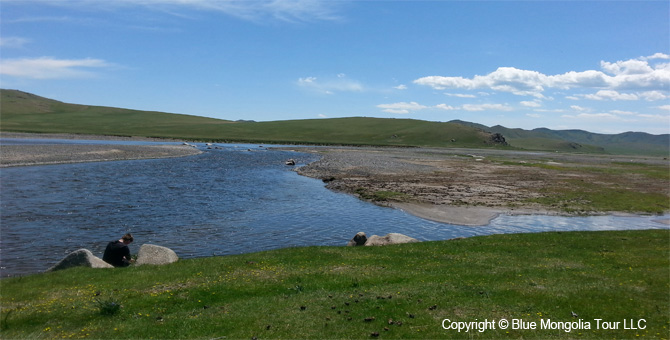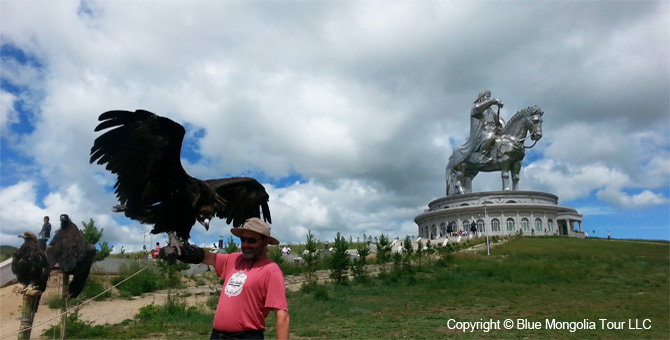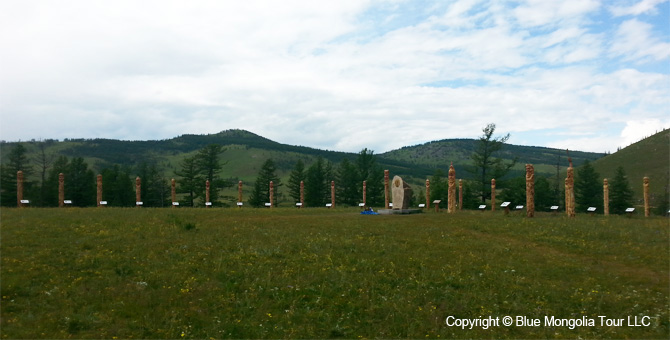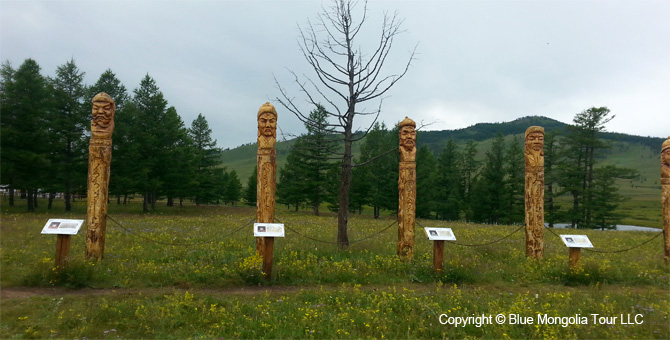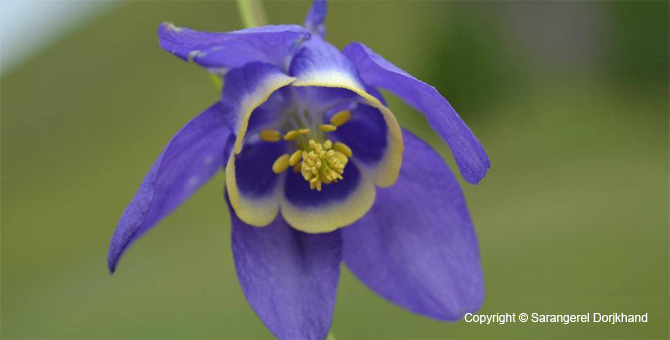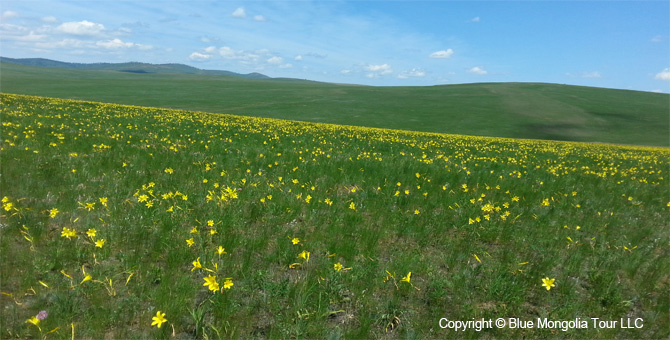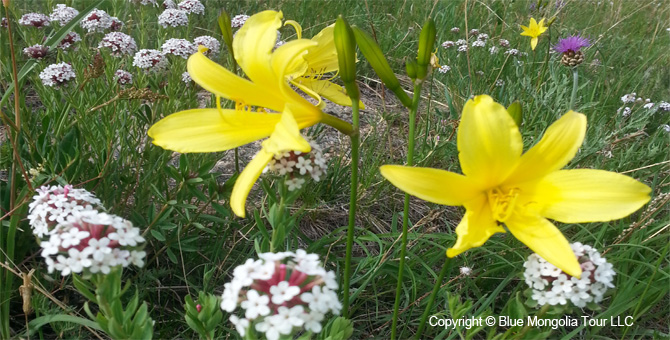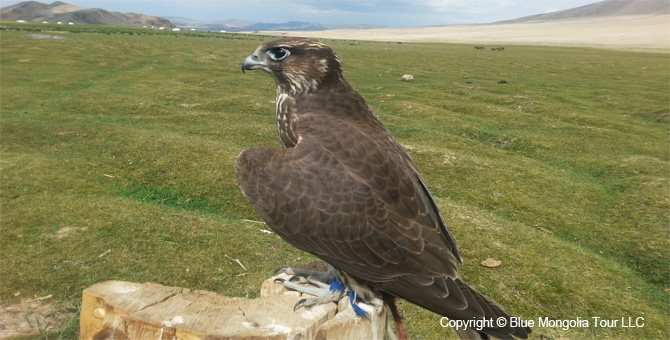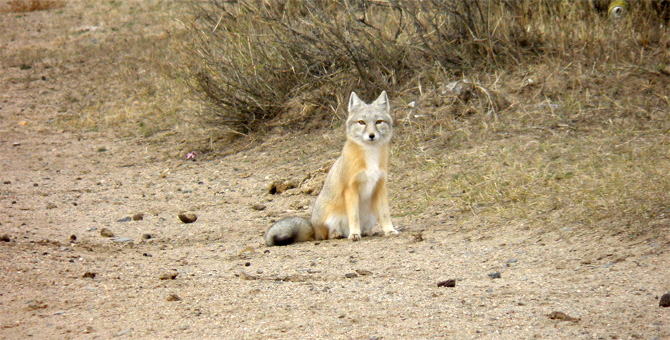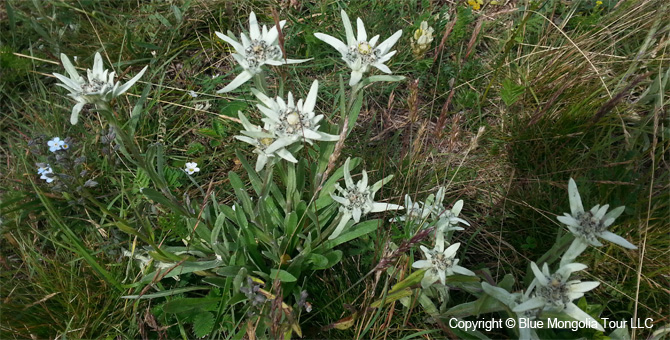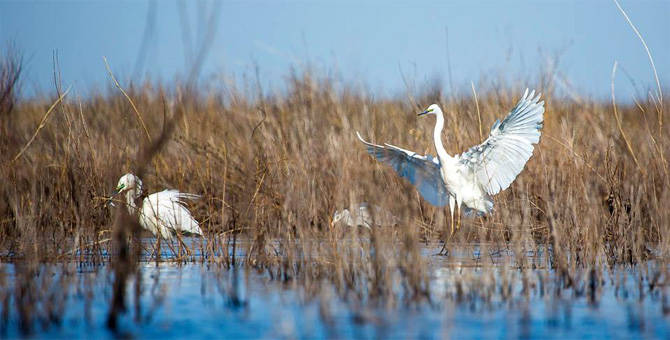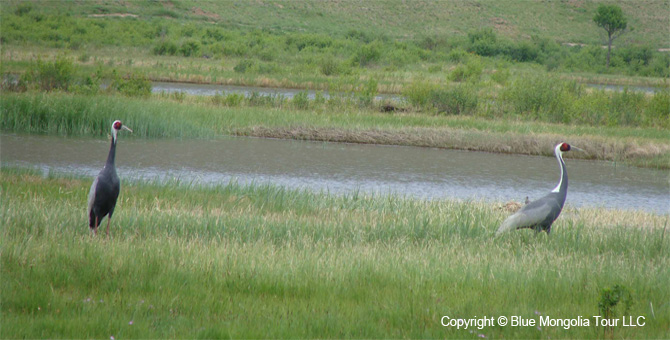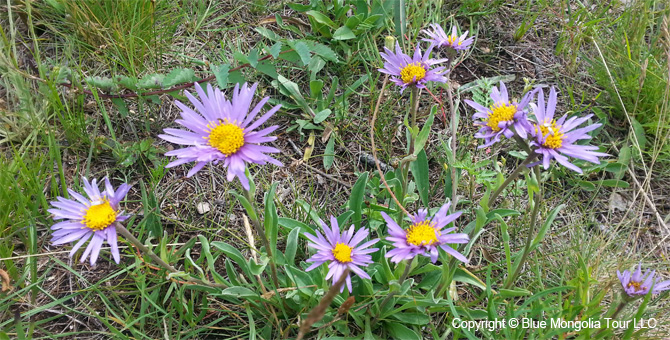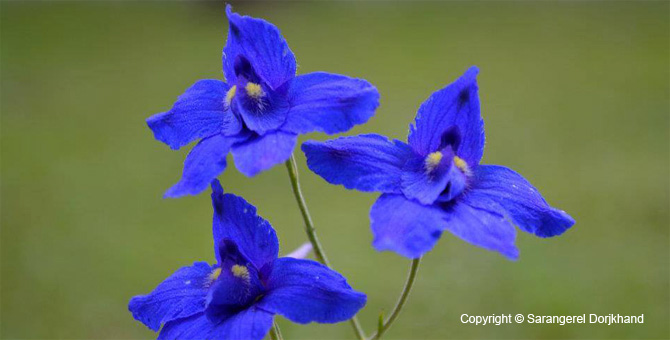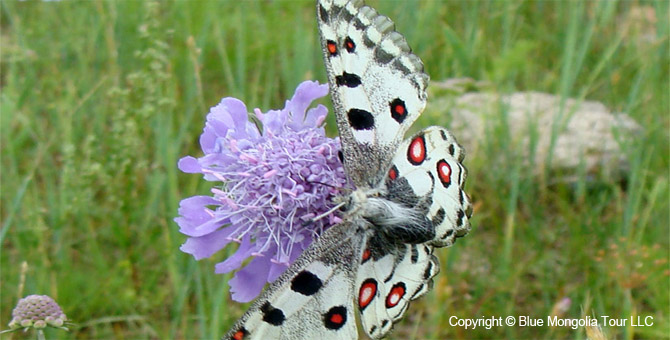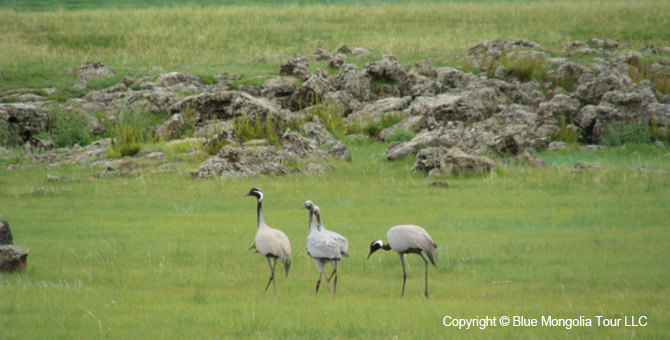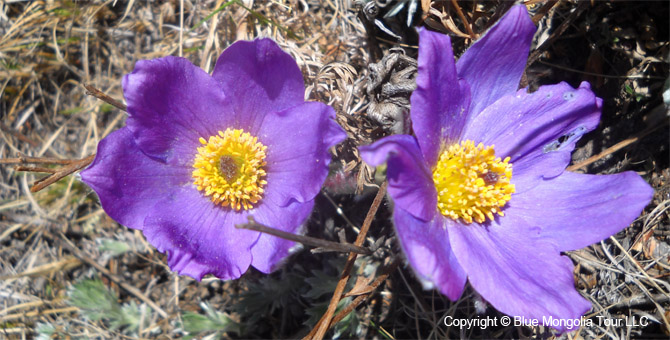 Day 1: Arrival in Ulaanbaatar city
Arrival in Ulaanbaatar city, Meeting assistance upon arrival by Blue Mongolia Tour agency representative and transfer to Hotel with 3 stars. Free time to adjust for time difference, Stay in hotel with 3 stars
Day 2: Ikh Nart National Park - Wildlife Observation
After breakfast your travel starts as heading to Ikh Nart National park area, Lunch on the way, Drive to national park, This park is the home of wild mountain sheep (Argali Ovis Ammon) and mountain wild goats (Capra Ibex) and other wildlife in steppe and rocky hills area. Trekking in hills and looking for the wild sheep, goats, lynx, fox and so on.. Dinner, Stay in tent camping
Day 3: Ikh Nart National Park - Wildlife Observation
Breakfast, Today is acclimatization day, Today you will explore the wildlife in the national park area, If you want to have some trekk to hills and observe the surrounding area, it is the great idea. Also in the national park you can watch some birds and mammals. Today is busy day with walking, trekking, observing, photographing of wild life and animals and plants, and meeting nomads as well. Lunch and Dinner, Stay in tent camping
Day 4-5: Saxaul Tree Forest - Wildlife Observation
Today you will drive and visit to Gobi desert steppe area and saxaul tree forest in gobi desert, On the way you will see the domesticated camels, which belong to the nomad families, Big heard of camels look like magnificient on vast steppe and camels' long legs steps are impressive. Soon you will not see any domesticated camels, sheep and goats, and you come to wildlife area, where are no noamds are living there. There are several oasis in deserts and Baruun toirom and Olziit Mt. In this open nature you can watch herds of wild ass, white tailed gazelles and black tailed gazelles, lizards, some birds in small lakes, Gazelles are curious by naturally, so their herds try to run in front of your car and they do this running in their high speed as looking at you. Lost of gazelles are running next to you or in front of you. Lovely valley with gazelles and wild ass. Wild asses will run from you, if you are coming close to them. Here you can see the beauty of gobi desert and alive view of the mongolian desert. Lunch and Dinner, Stay in tent camping
Day 6: Shar Tsav - Dinosaurs' tracks
Breakfast, You will stay in the forest area as exploring the wildlife of gobi desert, After lunch the group will drive to Shar Tsav paleontology site, which is keeping the more than 18000 tracks of predatrory and vegetarian 5 species of dinosaurs, Walking around the Shar Tsav (Yellow Cliff) and discover the tracks of dinosaurs, In 1995 Shar Tsav site was discovered by paleontologists in Mongolian-japan expedition, The expedition concluded that this area is keeping more than 18000 tracks of dinosaurs of 4-5 species, these tracks size is 6-69 sentimeter long and they dated to 70 millions years ago. The main area for tourists welcoming is keeping 2800 tracks, These tracks could be kept until today in natural cast and in cocave imprints. There is a dinosaur's head and neck fossils were found in 300 meters distance of main site. This Shar Tsav Site is the biggest and most valueable place with lots of numbers of tracks in the world. Dinner, Stay in tent camping
Day 7: Dell Mountain with rock paintings
After breakfast travel to Dell Mountain, which is considered as nature gallery of rock paintings, Lunch, It has more than 100 ancient tombs and burial mounds, more than 3000 rock paintings, more than 5 ancient inscriptions including mongolian, turkic, chinese, tibetan scripts, This mountain is also home for some animals: lizards, rabbits, hedgehocks and so on.., Walk in the mountains as exploring the rock paintings, then sit on one of the tops and explore the surrounding unique view of ragged hills, which look like a giant dragon's back, Dinner, Stay in tent camping
Day 8: Tsagaan Suvarga - Purple Cliff -
Today you will drive to Tsagaan Suvarga purple cliff area, which is the rare color and rare view of cliff in gobi desert, There is a mongolian symphony Tsagaan Suvarga, which is dedecated for this place, Listen to this symphony, In this place you can see that 40 millions years ago this gobi desert area was covered by ocean and then it dries out and changed into present view. There is a short cave, if you want to try pass through it, you can do it. Lunch, If it is summer hottest days, you can see the mirage in the steppe, Free afternoon and rest, Dinner, Stay in ger tourist camp
Day 9: Ulaanbaatar city
Today head to Ulaanbaatar city, 50 km is earth road and then 360 km on paved road, Lunch on the way in local cafe, Drive to Ulaanbaatar city and dierectly visit to Dinosaur museum, which gives you real insight into ancient time of our earth and nature, Coffee refresh and Visit to main Square called as Chinggis Khan Square, Transfer to the hotel and accommodation, Free time, Dinner, Stay in hotel
Day 10: Khustain Nuruu National Park - Wild Horses
After breakfast you will travel to Wild Horses National Park in Khustain Nuruu Mt, where herds of wild horses Przevalskii are re-acclimatizing since 1991, Information about the national park and wild horses will be given by accompanying Biologist. Drive to Mountains followed by a brief trek and wait for wild horses to come to spring drinking water; Mongolian name is takhi, Drive to the mountains to watch the mountain deers, marmots, chipmunks, grey wolves, lynx, pallas cat, red fox, eurosian badger and some types of birds: eagle, lammergeyer, bustard, storks, and swans…
Day 11: Ulaanbaatar capital
After breakfast drive to Ulaanbaatar city, Arrival in Ulaanbaatar city, Transfer to hotel, Free time, Shopping or visiting to some museums, National Folk Performance Concert with songs and contortion acts, Dinner, Stay in hotel
Day 12: Departure
Breakfast, Check-out at the hotel before 12.00 noon, Blue Mongolia Tour guide and driver will see you at the hotel lobby and Make a Transfer to the airport/ train station, Departure

The tour itinerary is subject to be changed at the traveler's request and requirements.
TOUR PRICE
For individual travelers (1-4 people): 2000-2800USD
For group (more than 5 people): 2200-1900USD
Above mentioned price is average amount to give you an idea. The exact amount is varied for everyone depending on number of travelers and service type including how many stars hotels you want to stay in, double or single occupancy you would prefer, what kind of additional service /such as visa support/ is required and so on...
Discount conditions:
• If group is bigger than 16 people: 16 +1pax free of charge
• For Family trip, children 0-9 years old are free of charge
This price INCLUDES:
Transfer to/from airport/hotel, Private transport with driver during the trip including petrol cost, Accommodation at hotels in Ulaanbaatar, Accommodations in Ger tourist camps in countryside, Everyday 3 times meals, English speaking tour guide, Entrance fees to protected areas, Entrance fees to sightseeing and museums and cultural shows, Horse rental and camel rental fees, Rental of tent camp and outdoor equipments, Domestic return flights, flight insurance, Daily supply of mineral water - 0.5L bottle of water per day, invitation letter arrangements for Mongolian tourist visa issue, service fees and government tax.
This price DOES NOT INCLUDE:
International air flight round trip, Travel insurance, medical insurance, Fee for Visa obtaining, Alcoholic beverages, Additional services, Fee for extra luggage, Personal expenses such as IDD call, internet using, laundry, any charge for major force beyond of our control such as the imposition of quarantine restrictions, weather bad conditions, changes of arrival/departure flights, poor roads conditions, etc.
Please, Note:
1. The maximum weight of loaded luggage for domestic flight and vehicle is 10 kg, hand luggage 5 kg. For overweight, each kg will be charged in 1.5USD. Extra luggage can be stored free at hotels in Ulaanbaatar.
2. Hotels in Ulaanbaatar city reserved on double occupancy, and in countryside all Ger styled tourist camps are based on triple or 4 occupancy.
3. Check-in at hotels is at 12:00m/Check-out at hotels is at 12:00m.
!!! Tour itinerary and price may be subject to change.
The duration of the above trip can be prolonged or changed to suit your needs.
Please, make your reservations at your earliest convenience.