10000 horses FESTIVAL TRAVEL
Tour code: MN-99
Seasons to be arranged: July and August
Duration: 7 nights & 8 days
Group size: 1 or up to 20 pax in a group
Total distance: 800 km by plane, 1200 km by jeep
Activity: 1 hour horse riding, watching reindeer festival, meeting with nomads
Trip Background Details: Khuvsgul lake National Park, Ulaanbaatar city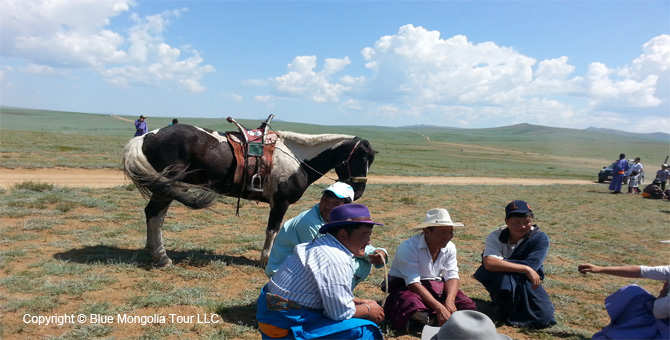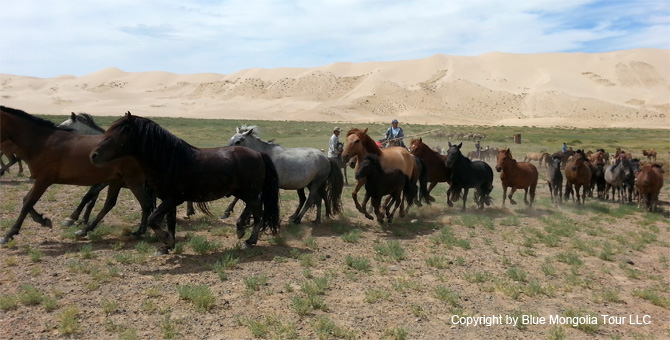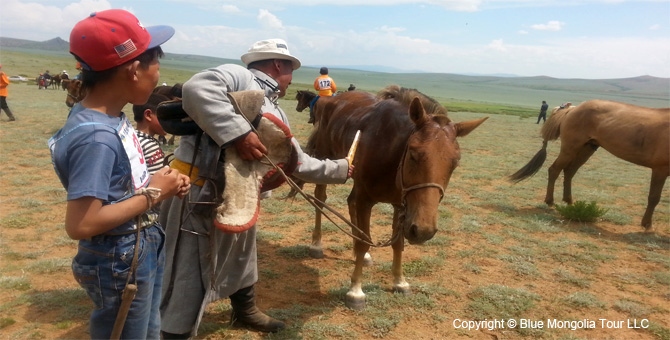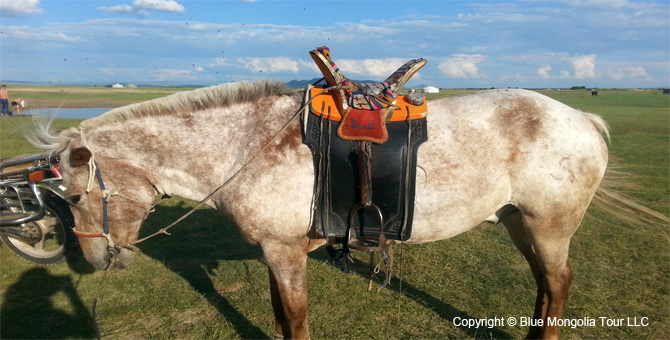 Who wants to stand in big herd of 10000 horses? This travel is dedicated for that person. Enjoy Mongolian nomadic culture and golden culture about horses. Horse breeders and horse lovers will enjoy together in this festival.
Day 1: Ulaanbaatar city
Arrival at train station or Chinggis Khan airport in Ulaanbaatar city, Blue Mongolia Tour guide will meet you at the airport or train station and have transfer to the hotel with you, you will have free time for relaxing and haveing rest to avoid from time difference, Stay in hotel
Day 2: Chinggis Khan's Massive Statue
Breakfast, Drive to Chinggis Khan Massive Statue on Tsonjin Boldog hill, where Chinggis Khan found golden whip one the way traveling to Khereid tribe, who were living in present location of Ulaanbaatar, Drive to Chinggis Khan town, Lunch, Drive to Batnorov or Bayan-Ovoo village area. Dinner, Stay in tent camping near to horse breeder nomad family ger
Day 3-4: 10000 HorsesFestival 
Breakfast, Explore nomadic culture of horse breeders, Visit home - ger of Khalkha mongolian tribe people, Explore horse herds of many families and horse racing competition, Enjoy Mongolian traditional wrestling competition, Archery Shooting competition, Tourists have a chance to watch how mongols are good on horses and more skills to catch wild horses and make the horses jentle down for riding, Tourists will ride horse -1 hour, For taking photos you have much chances to communicate with local horseboys and horseguys. Shopping handy crafts made by horse skin, bones and some local cashmere, Enjoy and watch competitions with mongols, free time near by nomad family, dinner, in the late evening enjoy bonfire with sounds of kneighing horses and wine. Stay at night at ger tourist camp.
Day 5: Khodoo Aral valley and Ruins of Abarga City –Palace of Chinggis Khan
Breakfast, Drive to Chinggis Khan town, Drive to Khodoo Aral valley and Abarga Toson ancient city ruins, Chinggis Khan's Borto palaces were located in this valley and Chinggis Khan built his first place and city Abarga in this valley by 1210, Lunch, Explore the abarga city ruins and its archealogical display house, explore the carbonated mineral water spring, Explore the memorial monument for the 750th anniversary for the Mongolian Secret History Book, The History book was finished written in this valley, Arrive at the camp, Dinner, Stay in ger tourist camp
Day 6: Terelj National Park
After breakfast you will drive to Terelj National Park, Exploring the beautiful granite rocky hills, nomads home-Ger and their livestock in the pasture, explore the Turtle rock natural formation, easy trekking on the green meadow, One hour horseback riding and free time for rest, Free time for relaxing, In the park you can have some chance to enjoy camel ride, trekking, hiking, Stay overnight in ger tourist camp
Day 7: Ulaanbaatar city
Breakfast, Drive to Ulaanbaatar city, Transfer to hotel, Friendship Monument on Zaisan hill, Visit to Mongolian Last King's Palace Museum, where are displayed unique art works by Mongolian artists, After lunch have free time, Farewell dinner is arranged, Stay in hotel
Day 8: Departure
Breakfast, Check-out at the hotel before 12.00 noon, Blue Mongolia Tour guide and driver will see you at the hotel lobby and Make a Transfer to the airport/ train station, Departure
The tour itinerary is subject to be changed at the traveler's request and requirements.
Tour Price
Solo Traveller: USD1690
Per Person for group of 2 people: USD1290
Per Person for group of 3-4 people: USD1190
Per Person for group of 5-10 people: USD1090
This price INCLUDES:
Private Transfer to/from airport/hotel and hotel/airport, Private transport with driver during the trip including petrol cost and road tolls, Accommodation at hotels with 3 stars in Ulaanbaatar- standart rooms for single or twin occupancy, Accommodations in Ger tourist camps in countryside, Everyday 3 times meals and hot drinks such as cups of coffee and tea, English speaking tour guide service, Domestic flight from/to Ulgii to Ulaanbaatar city, Entrance fees to protected areas and national parks, Entrance fees to sightseeing and museums and cultural shows in city, Horse riding fee for one hour, Daily supply of mineral water - 0.5L bottle of water per day, invitation letter arrangements for Mongolian tourist visa issue, service fees and government tax.
This price DOES NOT INCLUDE:
International air flight round trips, international train tickets, Travel insurance, medical insurance, Fee for Mongolian tourism visa obtain, Alcoholic bewerages, Additional and optional services, Fee for extra luggages, Personal expenses such as laundry service, any charge for major force beyond of our control such as the imposition of quarantine restrictions, weather bad conditions, changes of arrival/departure flights, poor roads conditions and single supplements for ger tourist camps = 20USD per night and etc.

Please, Note:
1. The maximum weight of loaded luggage for domestic flight and vehicle is 15-20 kg, hand luggage 5 kg. For overweight, each kg will be charged in 3USD. Extra luggage can be stored free at hotels' luggage rooms in Ulaanbaatar.
2. If you want to use your own outdoor camping gears such as mattrass and sleeping bags or bed linen, you can bring it with yourself. If you gave special requested items for outdoor camping, Please, Let Blue Mongolia tour manager to pack for yourself in advance.
3. Hotels in Ulaanbaatar city reserved on double occupancy, and in countryside all Ger styled tourist camps are based on triple or double occupancy.
4. Check-in at hotels is at 1:00p.m/Check-out at hotels is before 12:00m.
!!! Please, make your reservations at your earliest convenience.