Altai Mountain - Khuiten Peak Climbing In Mongolia
Tour code: MN-108
Seasons to be arranged: 1,June-15,September
Duration: 9 nights & 10 days
Number of travelers: Available for solo traveler, 2-4 people, group max of 10 pax
Tour grade: Easy
Total distance: 1800 km by plane, 900 km by van, 40 km trekking, 4 km climbing
Activity: 3 days high peak climbing, 6 days trekking, meeting with nomads
Specially advised to pack: hiking & climbing good shoes and trausers for trekking, crampons and gaiters, head light, sun glasses and warm hat & scarf, your favorite delicacies
Altai Mountains in western Mongolia offer a beautiful landscape coupled with unique cultures of three ethnics- Mongolians, Kazakhs and Tuvans. This area is rich in wildlife and provides one of the last refuges for the Altai Argali, the world's largest sheep, as well as the endangered Snow Leopard. Also Altai region is rich in archeological sites that vary from ancient petroglyphs to stone carvings from early Turkish nomads.
Our hiking travel in Altai mountains will be arranged in Altai Tavanbogd National Park including following hikes: day hike up the non-technical heights of Malchin snow capped peak (4050 m), day hike up to Shiveet Khairkhan Mountain (), day walking along Prezevalskii and Potanin Glaciers, Tavanbogd means "The Holy Five" and it refers to the peaks of Huiten (4374m and the highest), Naran, Ulgii, Burget and Nairamdal. It is a stunning setting with the awe inspiring massif of high snow capped peaks.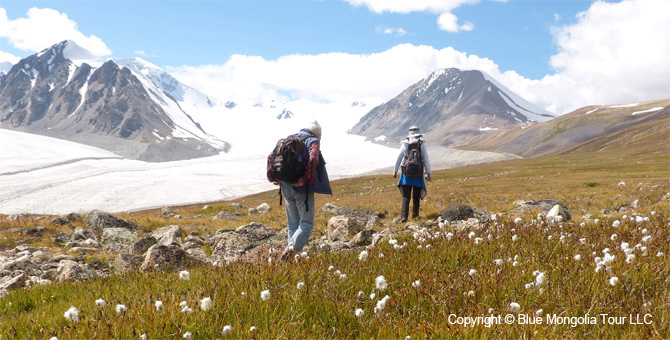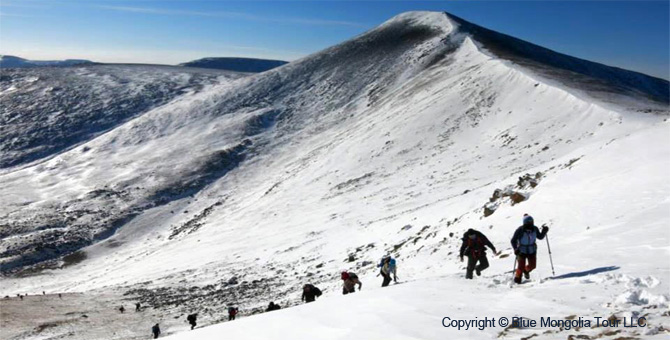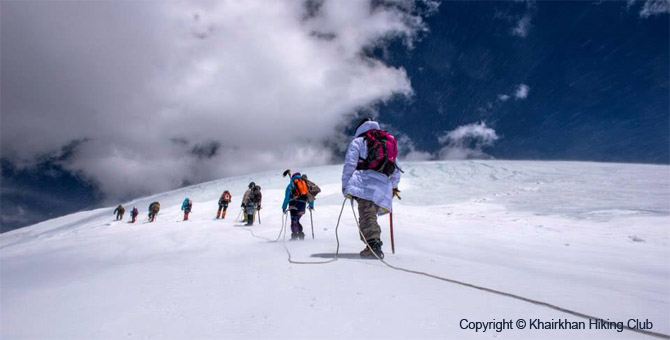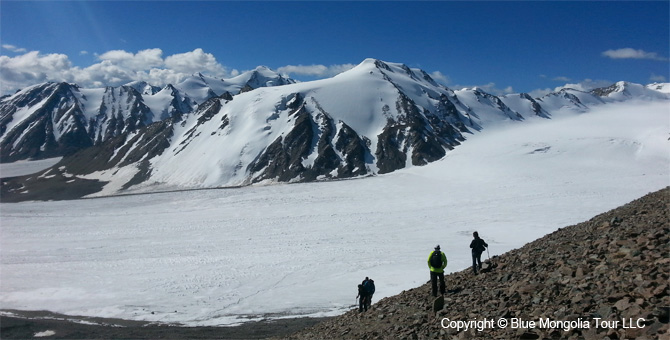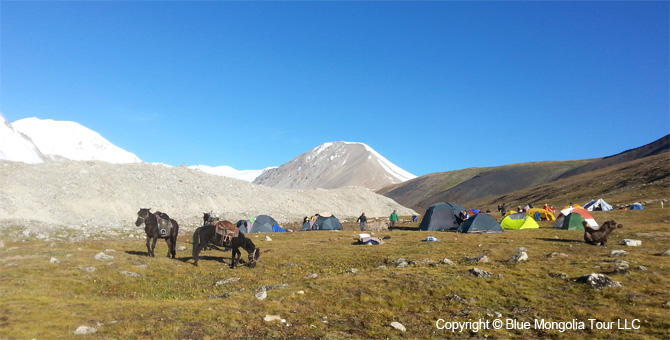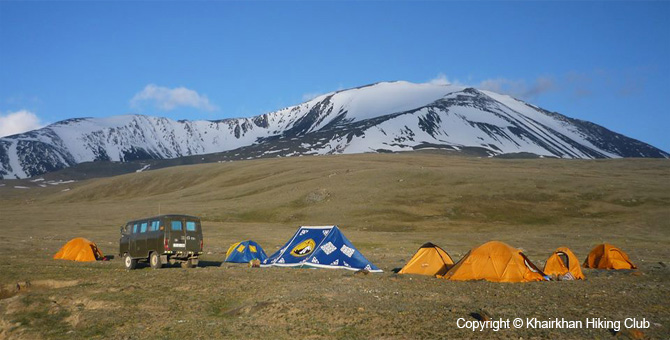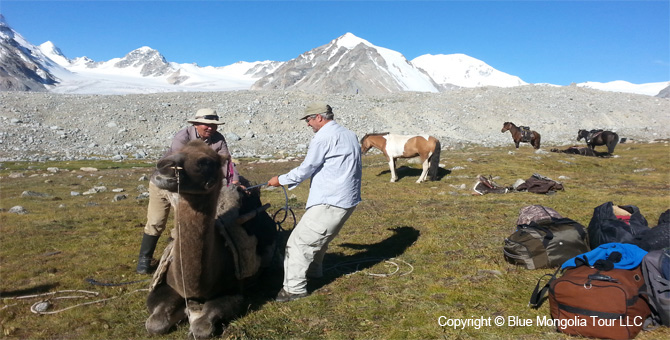 Day 1: Ulaanbaatar capital
Arrival in Ulaanbaatar city, Meeting assistance upon arrival by Blue Mongolia Tour agency representative and transfer to Hotel with 3 stars. Free time to adjust for time difference, Stay in hotel with 3 stars.
Day 2: Bayan-Olgii Province - Tsagaan River valley
After breakfast transfer to the airport to catch flight to Olgii town in western part of Mongolia, Upon your arrival in Ulgii airport our Ulgii tour guide will meet you and take you to grocery shop to collect some food staff: bottles of beer and wine, if you like to drink, your favorite delicacies and so on.. Travel to north-west about 185 km to Shiveet khairkhan Mountain, Shiveet Khairkhan Mountain - single big mountain, which is separated from others, has over 400 mountain wild goats on it, as so local people respect and do not any hunting. It is also keeping the Huns tribe's trails dated to 3 B.C, The Huns were the reason for the Chinese emperor Qin Shi Huangdi to build the Great Wall of China, Continue the trip, Reach Tsagaan river, Drive to Tsagaan River – White River, Free time and Outdoor Tent camping
Day 3: Trekking in valley Tsagaan River
Breakfast, Meet up with local Tuvan herders who will provide us with horses and camels for the climb and trekk, In the national park area vehicles and motorcycles are forbidden, so with the support of camels and horses, our hiking travel will be more comfortable. All of luggages will be loaded on the camelback for 16km to the base camp area at the edge of 20 km long Potanina glacier and some high peak. Get introduced with local guide, who will take care for horses and camels and luggages, Trekking travel will start to base camp, ehich is located on edge of Potanina Glacier, that runs down from the highest mountains in Mongolia, In the evening enjoy bon fire and dinner, Stay in outdoor tent camping
Day 4: Altai Tavanbogd Mountain with snow peaks – Trekking
Breakfast, In the morning earlier pack everything and Trekking starts on glacier Potaninia and heading to Khonog tolgoi small hill in middle of glacier, Have tent camping on ice & snow bottom area of Khonog hill, Free time. Prepare and check climbing gears and get instruction from local climbing guide. Dinner, And rest earlier. Stay overnight in outdoor tent camp
Day 5: Khuiten Peak Climbing

By 2.30a.m get up and 3.00a.m Climb attack will start to Khuiten peak. Professional climb to Khuiten peak with help of ice needles and ice axes, ropes. 5 people will go in one rope. Take photos on the top of the mountain with your national flag and mongolian national flag. Come down to the camp at Khonog hill. Free time and rest, Dinner and Stay in tent camping
Day 6: Trekking back to base camp
Breakfast, Trekking back to base camp crsossing on the glacier. Lunch, Continue the trekking trip,Walking along the Potanina Glacier, Walking on the wild flower carpeted green meadows heading to Grane and Prezevalskii Glaciers, Arrival at the camp, Free time, Dinner, Stay in tent camping
Day 7: Trekking back to Tsagaan Gol camp
At breakfast enjoy a cup of coffee and tea, sitting next to colorful flower carpeted green meadow, Treeking starts to Tsagaan gol camp, where our driver and car is waiting for us. Full day trekking in Tsagaan river valley, Dinner. Stay in tent camping
Day 8: Ulgii town
Breakfast, Drive to Ulgii town. Full day driving in vast valleys, Lunch on the way, Continue drive to the town. Arrival in a hotel and free time for rest and have relaxing shower. Dinner, Stay in hotel
Day 9: Tsambagarav Mountain
Breakfast, Drive to Tsambagarav Mountain. On the way picnic lunch, Continue drive, Dinner stay in tent camping in Namarjin area.
Day 10: Tsambagarav Mountain Climbing
In the morning by 4a.m Start climbing to the peak, Local guide will guide you to the peak. 5people will go in one rope, Come down back to the camp, Dinner, Stay in tent camping.
Day 11: Khovd Town
Breakfast, Drive to Khovd town, Free time. Dinner, Transfer to the airport. By 20.10p.m Fly to Ulaanbaatar city, Transfer to the hotel, Stay in hotel
Day 12: Ulaanbaatar city
Breakfast, City tour including visits to National History Museum gives you real insight into Mongolian origin and history, After lunch visit to Paleontology Museum offers nice chance to see petrified dinosaur skeletons and nestled eggs, Visit main square Chinggis Khan, Free time for shopping the main street shops, art shops and antique shops, National Folk Performance Concert with songs and contortion acts, Dinner, Stay in hotel
Day 13: Departure
Breakfast, Check-out at the hotel before 12.00 noon, Blue Mongolia Tour guide and driver will see you at the hotel lobby and Make a Transfer to the airport/ train station, Departure
The tour itinerary is subject to be changed at the traveler's request and requirements.
Tour Price
Solo Traveler: -
Per Person for group of 2 people: -
Per Person for group of 3-4 people: -
Per Person for group of 5-9 people: - Please, Contact with our sale manager.
Above mentioned price is average amount to give you an idea. The exact amount is varied for everyone depending on number of travelers and service type including how many stars hotels you want to stay in, double or single occupancy you would prefer, what kind of additional service /such as visa support/ is required and so on...

Discount conditions:
• If group is bigger than 16 people: 16 +1pax free of charge
• For Family trip, children 0-9 years old are free of charge
This price INCLUDES:
Transfer to/from airport/hotel, Private transport with driver during the trip including petrol cost, Accommodation at 3 stars hotels in Ulaanbaatar, Accommodations in Ger tourist camps in countryside, Everyday 3 times meals, English speaking tour guide, Entrance fees to protected areas, Entrance fees to sightseeing and museums and cultural shows, Horse riding fee, Daily supply of mineral water - 0.5L bottle of water per day, invitation letter arrangements for Mongolian tourist visa issue, service fees and government tax.
This price DOES NOT INCLUDE:
International air flight round trip, Travel insurance, medical insurance , Fee for Visa obtaining, Alcoholic beverages, Additional services, Fee for extra luggage, Personal expenses such as IDD call, internet using, laundry, any charge for major force beyond of our control such as the imposition of quarantine restrictions, weather bad conditions, changes of arrival/departure flights, poor roads conditions, etc.
Please, Note:
1. The maximum weight of loaded luggage for domestic flight and vehicle is 10 kg, hand luggage 5 kg. For overweight, each kg will be charged in 1.5USD. Extra luggage can be stored free at hotels in Ulaanbaatar.
2. Hotels in Ulaanbaatar city reserved on double occupancy, and in countryside all Ger styled tourist camps are based on double or triple occupancy.
3. Check-in at hotels is at 12:00m/Check-out at hotels is at 12:00m.
!!! Tour itinerary and price may be subject to change. The duration of the above trip can be prolonged or changed to suit your needs. Please, make your reservations at your earliest convenience.