reindeer FESTIVAL TRAVEL
Tour code: MN-77
Seasons to be arranged: 5-8,july
Duration: 7 nights & 8 days
Group size: 1 or up to 20 pax in a group
Total distance: 800 km by plane, 1200 km by jeep
Activity: 1 hour horse riding, watching reindeer festival, meeting with nomads
Trip Background Details: Khuvsgul lake National Park, Ulaanbaatar city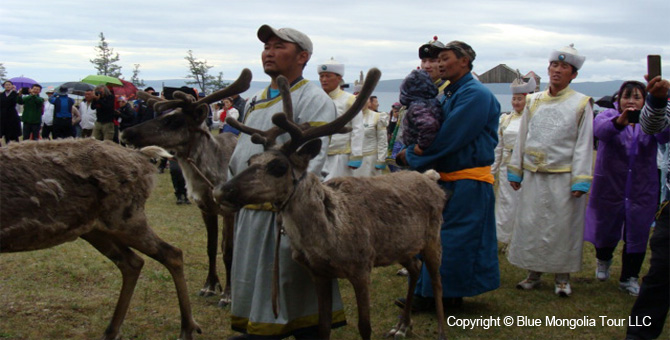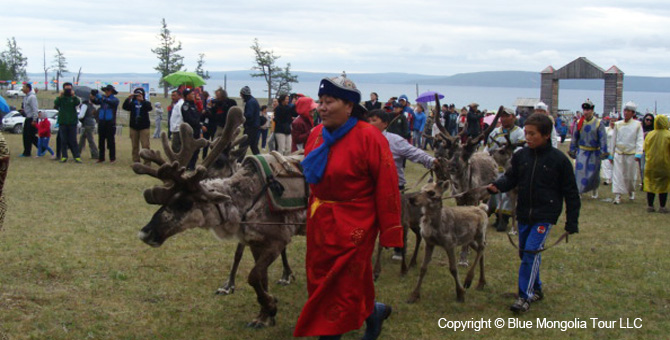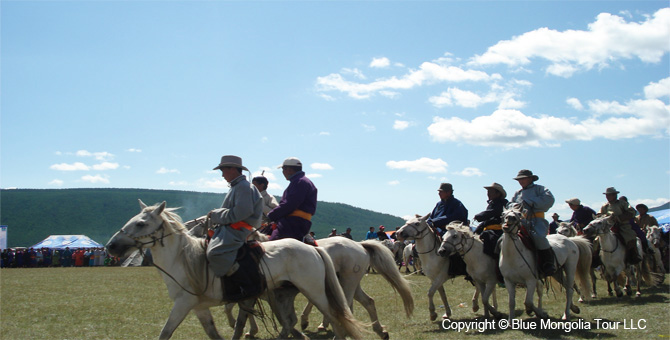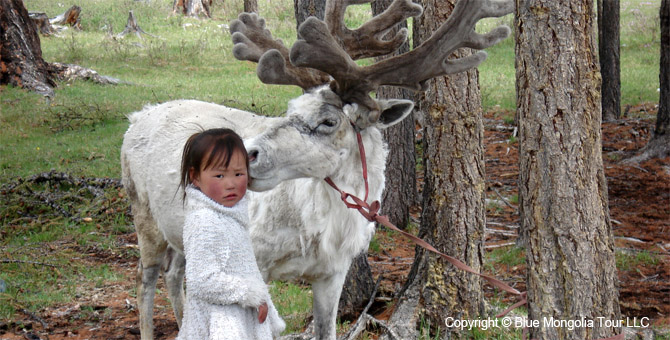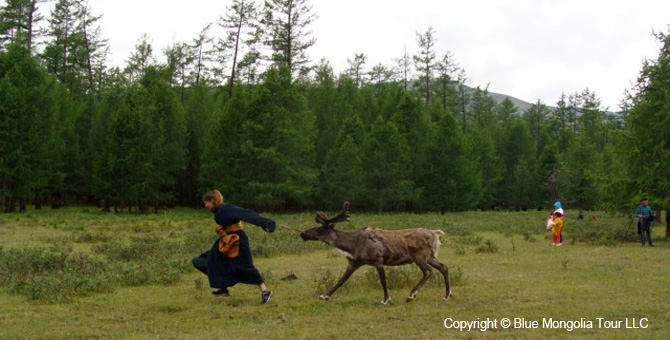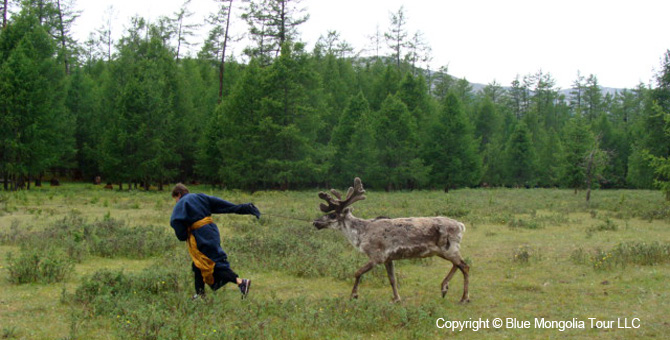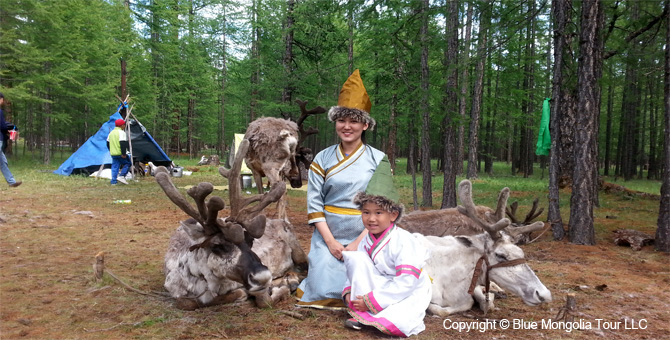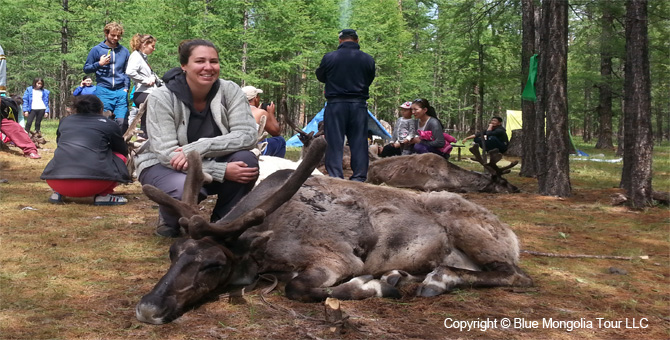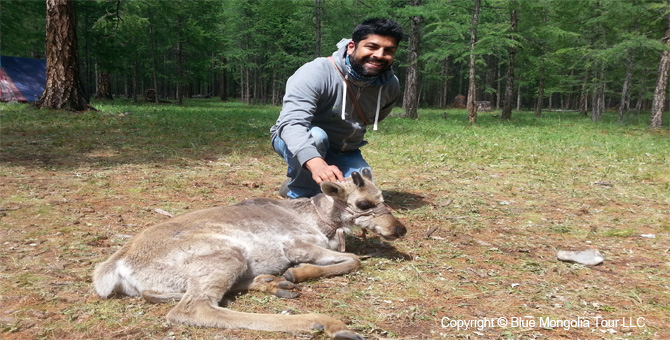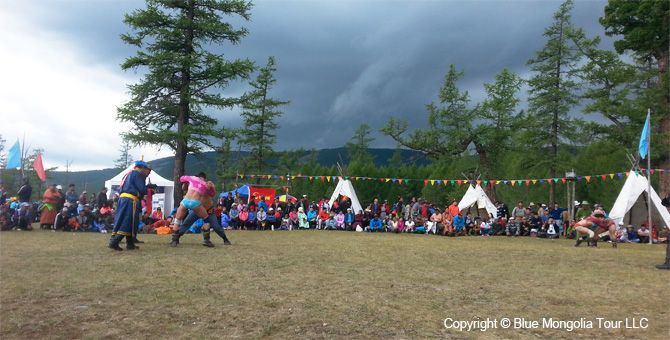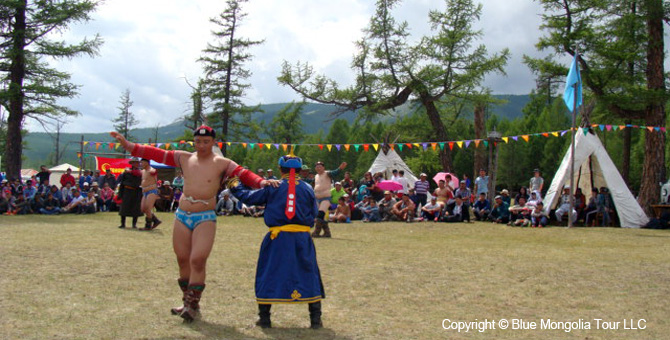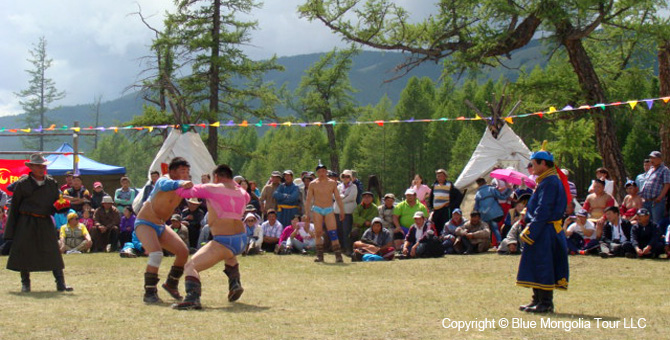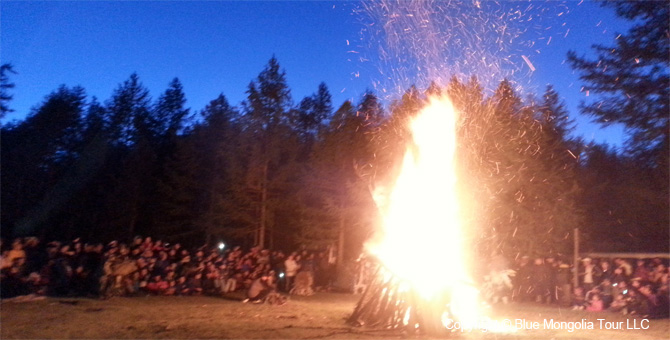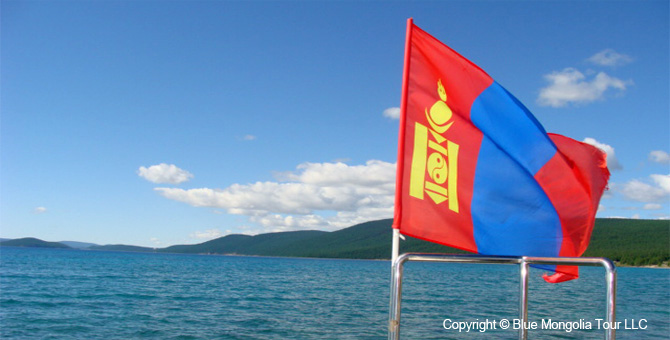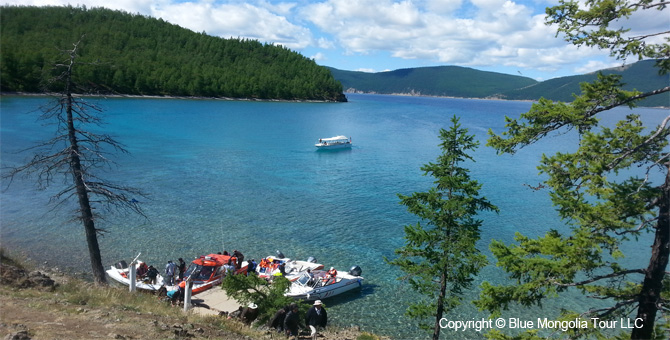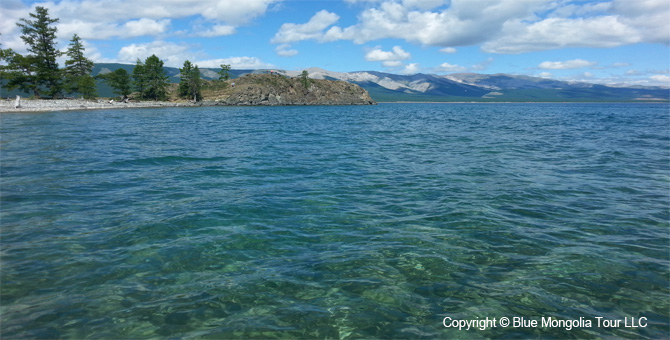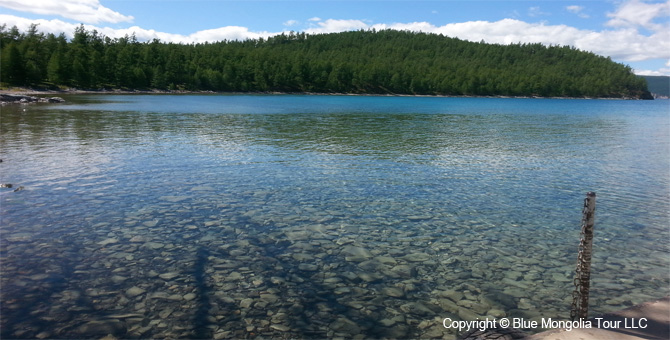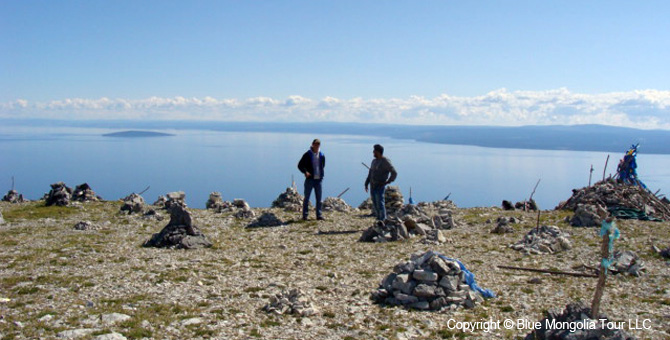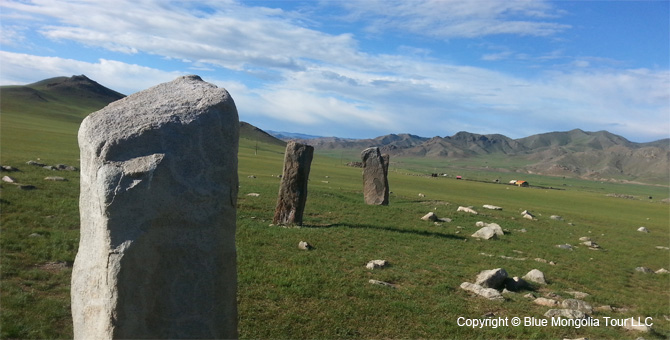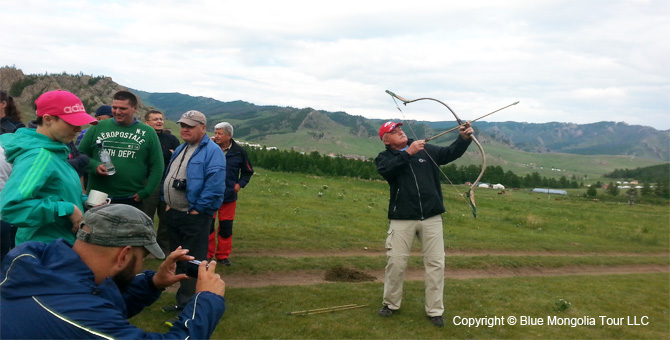 One of spectacular customs of Darkhad Tsaatan people is a festival of reindeer herders. This festival is held annually in on shore of Khuvsgul beautiful lake, in north part of Mongolia. The festival displays the pride of reindeer herders and their joy and nomadic lifestyle as well as their reindeer herds. After the festival you can have chance to discover picturesque landscape of central part of Mongolia and high rocky mountains, beatuful lakes and rivers, ancient tombs and volcanos.
Day 1: 4,July - Ulaanbaatar city
Arrival at train station or Chinggis Khan airport in Ulaanbaatar city, Blue Mongolia Tour guide will meet you at the airport or train station and have transfer to the hotel with you, you will have free time for relaxing and haveing rest to avoid from time difference, Stay in hotel
Day 2: 5,July - Moron town – Khuvsgul lake
Breakfast, Fly to Moron town of Khuvsgul Province, Blue Mongolia agency local guide picks you up at airport or bus terminal in Murun, Drive to Khuvsgul lake (140 km from Murun), on the way explore deer monument complex in Uushig valley dated to 3000 years before, arrive to Khuvsgul lake, lunch, rest & relaxing, free time near Khuvsgul lake, dinner, stay at night in ger tourist camp.
Day 3-4: 6-7,July – Reindeer Festival 
Breakfast, Explore nomadic culture of reindeer herders, Visit home - urts of Tsaatan tribe people, Explore reindeer herds and their racing competition, Enjoy Mongolian traditional wrestling competition, Archery Shooting competition, Tourists have a chance to participate in the competition with reindeer: A tourist will dressed up in Mongolian deel costume, then he/she holds reindeer reign and run to the place, where local father and his child are waiting for her/him, When tourist brings them the reindeer, the local guy will put saddle on reindeer and a child will ride a reindeer. Tourist, father and a child on reindeerback will run to the fisnish line. Tourists will have much chance to take picture of reindeers and reindeer herders, also they can feed the reindeers with fungus. Tourists will ride horse -1 hour, will ride reindeer- 5 minutes for taking photos. Shopping handy crafts made by reindeer skin, bones and some local cashmere, Enjoy and watch competitions with mongols, Reindeer parade, free time near by Khuvsgul lake, dinner, in the late evening by 9.30p.m - explore shamanism ceremony - bonfire worshipping ceremony, Stay at night at ger tourist camp.

Day 5: 8,July - Hiking to Khisaa Peak - Khuvsgul Lake
Breakfast, In the morning early Drive to Khirvesteg area, where the Tepee people are living, Visit to Tsaatan family's tent and explore their lifestyle, taking pictures of reindeer herds, Talking with tepee people, Drive to Khisaa Bulan (15 km), Lunch, Hiking to the Khisaa peak -3240m above see level, /one way is 5-6 hours/, Explore the surrounding landscape from the top of the mountain. In the far distance you will see the snow caped peaks of Khoridol Saridag Mt, 3 islands in the lake, the clouds will be under your feet and big valley of the lake. In mountain you will see many of wild flowers and colorful stones. Go back to the vehicles, Drive back to the ger camp by 4p.m, Watch national folk song and dance concert, travel in Huvsgul lake by motor boat, lunch, watch horse race, free time, dinner, stay at night in ger camp. Free time, Dinner, Stay overnight in ger camp near lake
Day 6: 9,July - Motorboat sailing in Khuvsgul lake - Bulgan Province
Breakfast, Motor boat sailing to a small island in middle of lake-2 hours or canoeing in Toilogt lake,   Lunch, Drive to  Moron town, Lunch, Drive to Bulgan Province, Arrival in Tourist camp, Dinner, Stay in ger tourist camp

Day 7: 10, July - Uran Togoo Volcano Crater - Ulaanbaatar
Breakfast, Drive to Uran Togoo Volcano Crater in the valley of Unit, Hiking and easy trekking to the small volcano crater, Drive to Ulaanbaatar city, Arrival in city and transfer to the hotel, Dinner, Stay in hotel
Day 8: Departure
Breakfast, Transfer to the train station for the Trans Siberian Raliway to Beijing, Departure
The tour itinerary is subject to be changed at the traveler's request and requirements.
Tour Price
Solo Traveller: USD1690
Per Person for group of 2 people: USD1290
Per Person for group of 3-4 people: USD1190
Per Person for group of 5-10 people: USD1090
This price INCLUDES:
Private Transfer to/from airport/hotel and hotel/airport, Private transport with driver during the trip including petrol cost and road tolls, Accommodation at hotels with 3 stars in Ulaanbaatar- standart rooms for single or twin occupancy, Accommodations in Ger tourist camps in countryside, Everyday 3 times meals and hot drinks such as cups of coffee and tea, English speaking tour guide service, Domestic flight from/to Ulgii to Ulaanbaatar city, Entrance fees to protected areas and national parks, Entrance fees to sightseeing and museums and cultural shows in city, Horse riding fee for one hour, Daily supply of mineral water - 0.5L bottle of water per day, invitation letter arrangements for Mongolian tourist visa issue, service fees and government tax.
This price DOES NOT INCLUDE:
International air flight round trips, international train tickets, Travel insurance, medical insurance, Fee for Mongolian tourism visa obtain, Alcoholic bewerages, Additional and optional services, Fee for extra luggages, Personal expenses such as laundry service, any charge for major force beyond of our control such as the imposition of quarantine restrictions, weather bad conditions, changes of arrival/departure flights, poor roads conditions and single supplements for ger tourist camps = 20USD per night and etc.

Please, Note:
1. The maximum weight of loaded luggage for domestic flight and vehicle is 15-20 kg, hand luggage 5 kg. For overweight, each kg will be charged in 3USD. Extra luggage can be stored free at hotels' luggage rooms in Ulaanbaatar.
2. If you want to use your own outdoor camping gears such as mattrass and sleeping bags or bed linen, you can bring it with yourself. If you gave special requested items for outdoor camping, Please, Let Blue Mongolia tour manager to pack for yourself in advance.
3. Hotels in Ulaanbaatar city reserved on double occupancy, and in countryside all Ger styled tourist camps are based on triple or double occupancy.
4. Check-in at hotels is at 1:00p.m/Check-out at hotels is before 12:00m.
!!! Please, make your reservations at your earliest convenience.