PHILOSOPHY OF SHAMANISM - Culture Study Trip
Tour code: MN-99

Duration: 8 days

Tour grade: Easy

Total distance: 300 km by jeep

Number of travelers: Available for 1-4 people, not big group more than 4 pax.

Activity: Meeting with nomads and shamans, shamans fire, mountain and water worshipping ceremony


Specification: This tour is Culture-Belief Research and more interllectually satisfying trip for teachers, students, culture study research people, nomadic civilization research people or study people. The trip is highlighting the origin of shamanism belief, phylosophy, ritual ceremonies and the consideration why the ceremony should be held. During this trip some notions of talking and watching is connected with astrology, medicine, physics, chemistry, spiritual understanding and so on... If you are a tourist, who want just to watch and observe the shaman ritual ceremony or who want to meet with shamans for asking help, please, choose another shamanic spiritual trips in this category.

Specially advised to pack: Sun glasses and sun hat, binocular, mosquito repellent crème, your favorite delicacies.


POEM ABOUT BELIEF OF SKY
Such as eagle's magestic fly in the sky
The best believer of the blue sky
Spirit is called as eternal holy origin
Named as messenger of snow caped mountain
High fly in the night dark
Hero's force of great sky
Supporting his all generations
Sky's the best envoy
Appeased the deity of nature's angry
The best envoy of the sky with moon
Riding with spirit from spiritual world

Mongols' great shamanism belief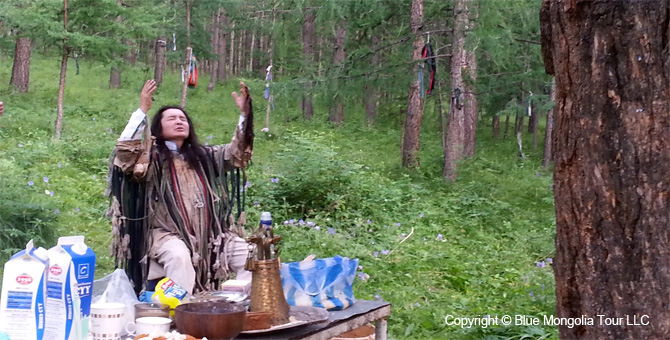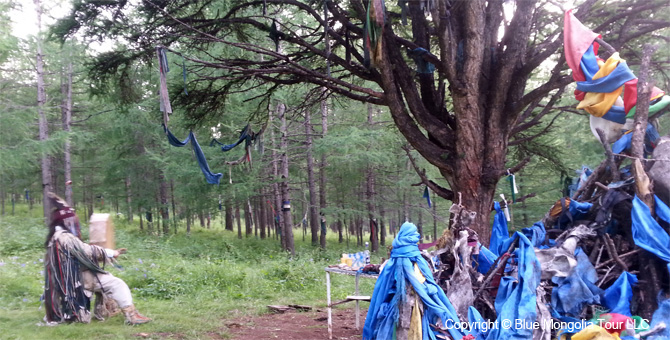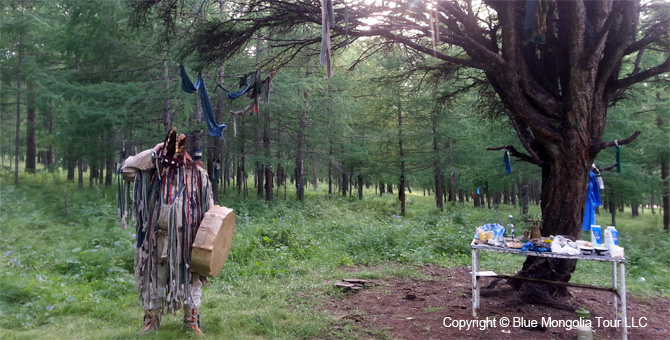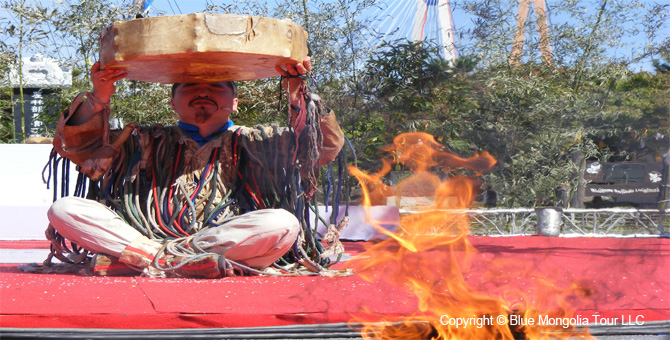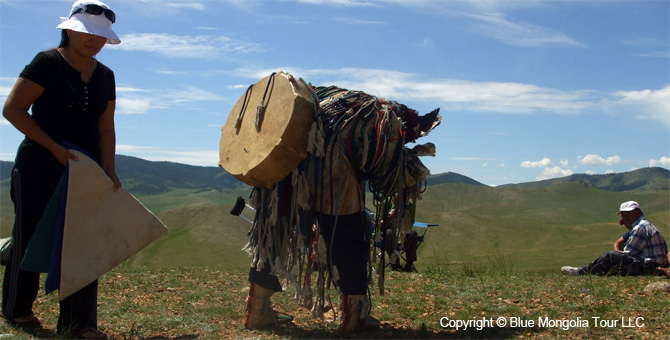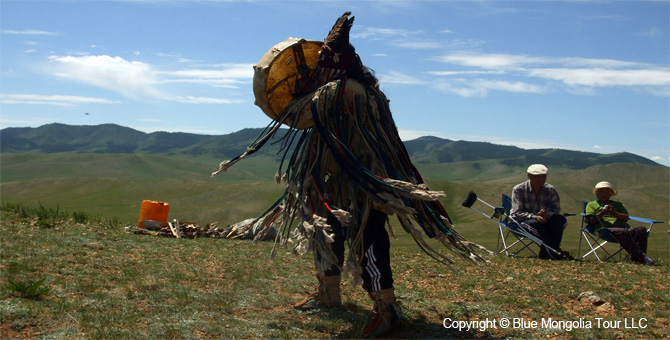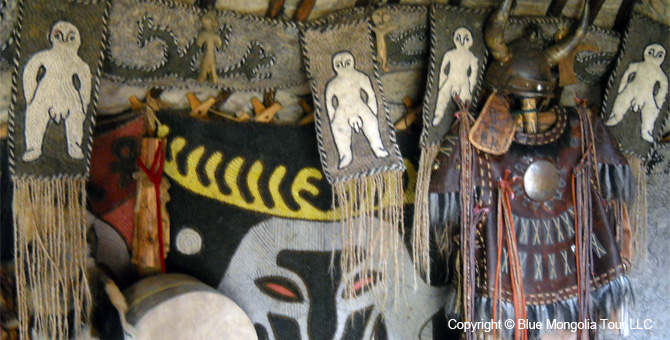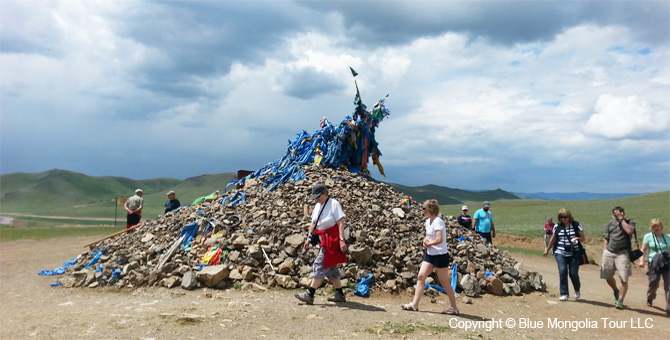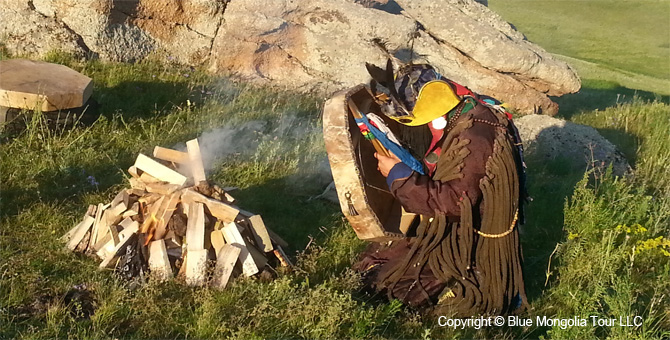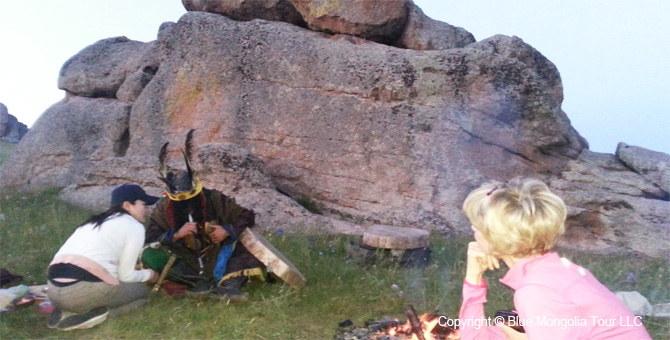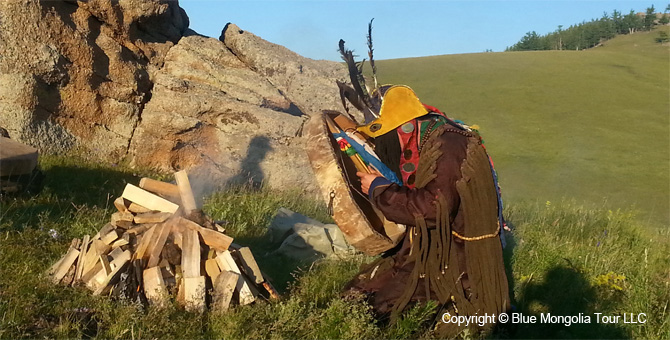 Day 1: Arrival in Ulaanbaatar city
Arrival in Ulaanbaatar city, Meeting assistance upon arrival by Blue Mongolia Tour agency representative and transfer to Hotel with 3 stars. Free time to adjust for time difference, Stay in hotel with 3 stars
Day 2-6: Meet Dr.s from Mongolian National University - Religion Phylosophy Department & Shaman people - Nomads people - Art - Medicine- Astrology
Visit to Mongolian National History Museum and Culture Gallery, where are some items related to shamanism. In the gallery you will meet with shaman Mr.Chinbat, who has been a shaman for more than 35 years and he was from Darkhad depression in north part of Mongolia. Shaman man will introduce himself and start talk about the phylosophy and religion from nomadic civilization, Respect to the nature, respect to the blue sky and respect to ancestors. He will show his clothes and drums and other items, which is used for calling his initiation and explain why the clothes and items have those kinds of hangings and protection metals. Today you will explore that how nomads express their respect to the mother tree. Explore the worshipping ceremony for Mother Tree and Calling ongods (Holy Spirit of Ancestors). The purpose of welcoming an ongod from sky is to ask help: fixing energy, aura and mood and help you to get good health, happiness and success.
Day 7: Chinggis Khan Statue on Tsonjin Boldog Hill - Terelj Park
Breakfast, Drive to Chinggis Khan Statue located in Erdene village area /60 km in the east of city/, On the way Explore ovoo-pile of stones for nature worshipping, The Statue is 40 meters high and it is located in one of the historical places in Chinggis Khan biography, Drive back to Terelj national park, Some trekking on hills, Drive back to Ulaanbaatar, Transfer to the hotel, Free time and Stay in hotel
Day 8: Departure day
Breakfast, Check out the hotel, Transfer to the airport, Departure

For the detailed program, please, contact our tour manager with your request and requirements. We'll help you design special program for you and your university group.
Please, Note:
1. Hotels in Ulaanbaatar city reserved on double occupancy, and in countryside all Ger styled tourist camps are based on triple or 4 occupancy.
2. Check-in at hotels is at 12:00m/Check-out at hotels is at 12:00m
!!! Tour itinerary and price may be subject to change. The duration of the above trip can be prolonged or changed to suit Mongolian needs. Please, make your reservations at your earliest convenience.