Dukha Darkhad Shaman meeting & ceremony Travel
Tour code: MN-196
Duration: 4 days
Tour grade: Easy
Total distance: 300 km by jeep
Number of travelers: Available for 1-4 people, not big group more than 4 pax.
Activity: Meeting with nomads and shamans, shamans fire & Mother Tree worshipping ceremony

Seasons to be arranged: Available for 1,March-1,November. The date can be fixed just in 20 days before the rituals are held by shamans. This tour is not show for tourists. It is real active and effective rituals & ceremony for tourists. Shamans' ancestors spirits will do special ceremony for clearing the man body, soul and aura, fixing the energy, calling good luck and success, worshipping ceremony for building up a strong protective energy wall so on...
Specially advised to pack: Sun glasses and sun hat, binocular, mosquito repellent crème, your favorite delicacies. Specially when you participate in shaman rituals and want to offer something to mountain, river and for fire, you can buy some staffs in Ulaanbaatar, after you arrive in Mongolia: Fr example: milk, nice delicacies for you, juniper, vodka, goat meat, khadag - silk scarf and so on...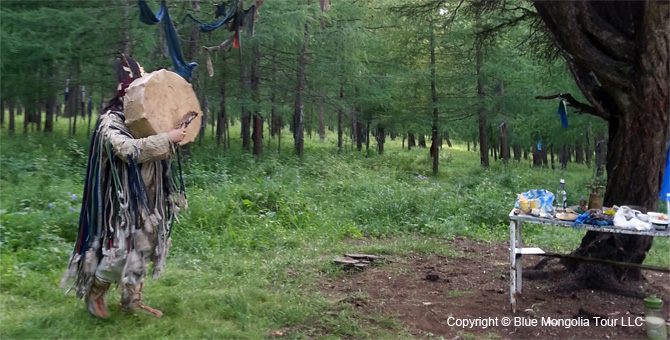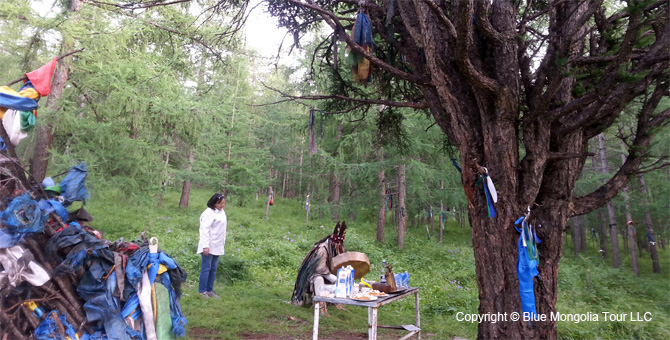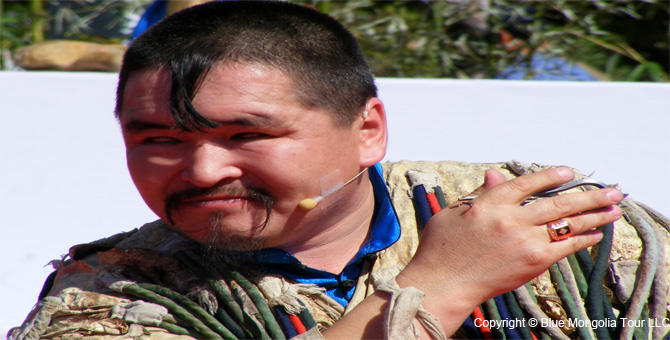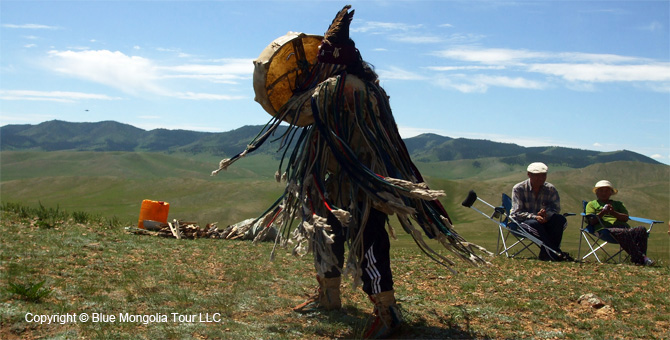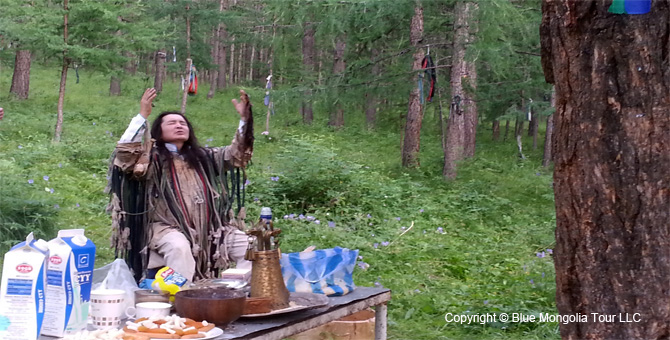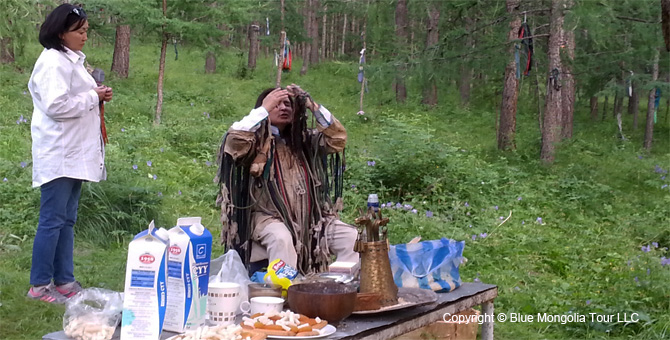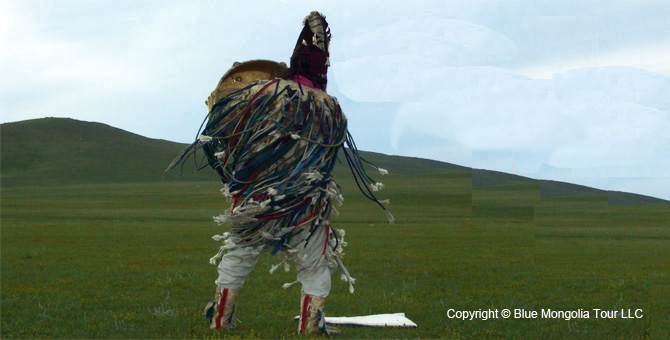 Day 1: Arrival in Ulaanbaatar city
Arrival in Ulaanbaatar city, Meeting assistance upon arrival by Blue Mongolia Tour agency representative and transfer to Hotel with 3 stars. Free time to adjust for time difference, Stay in hotel with 3 stars
Day 2: Mother Tree Worshipping and Shaman Ceremony
Breakfast, Visit to Mongolian National History Museum and Culture Gallery, where are some items related to shamanism. In the gallery you will meet with shaman Mr.Chinbat, who has been a shaman for more than 35 years and he was from Darkhad depression in north part of Mongolia. Shaman man will introduce himself and start talk about the phylosophy and shamanism belief from nomadic civilization, Respect to the nature, respect to the blue sky and respect to ancestors. After lunch he will show his clothes and drums and other items, which is used for calling his ongods (initiation) and explain why the clothes and items have those kinds of hangings and protection metals. Today you will explore that how shamans express their respect to the mother tree. Explore the worshipping ceremony for Mother Tree and Calling ongods (initiation). Drive back to Ulaanbaatar, Dinner, Stay in hotel s
Day 3: Fire Worshipping Ceremony near Mother Tree
Breakfast, Drive to Mother tree and Forest hill, Today Shaman Cninbat will do special shaman ceremony for tourists: He will call his ongods and the holy spirits from sky will fix your energy, aura and mood and help you to get good health, happines and success. Then we will pray for the god of nature, and offer some things to mother tree and nature, blue sky. Then he will lead the shaman ceremony for fire worshipping for the good future of tourists. Tourists will offer some meat, oil, silk materials and juniper and other staffs to the fire. The fire offering is for the fire lady -woman god of fire - Galiin eej Gilaihan. After lunch you will have talking with shaman about the phylosophy and logic meaning of shaman ceremony. Today you will collect much of power and clean soul from pure nature and powerful sky. Drive back to Ulaanbaatar, 6p.m - you will enjoy the mongolian folklore concert with contortion, throat singing, long songs and buddhism religious dance and shaman religious dance, Dinner, Stay in hotel
Day 4: Departure day
Breakfast, Check out the hotel, Transfer to the airport, Departure

The tour itinerary is subject to be changed at the traveler's request and requirements.
TOUR PRICE
For individual travelers /1-2 people/: 600-700USD
For group /more than 3-4 people/: 500-400USD
Above mentioned price is average amount to give you an idea. The exact amount is varied for everyone depending on number of travelers and service type including how many stars hotels you want to stay in, double or single occupancy you would prefer, what kind of additional service /such as visa support/ is required and so on...
This price INCLUDES:
Private Transfer to/from airport/hotel and hotel/airport, Private transport with driver during the trip including petrol cost and road tolls, Accommodation at hotels with 3 stars in Ulaanbaatar- standart rooms for single or twin occupancy, Accommodations in Ger tourist camps in countryside, Everyday 3 times meals and hot drinks such as cups of coffee and tea, English speaking tour guide service, Entrance fees to protected areas and national parks, Entrance fees to sightseeing and museums and cultural shows in city, Horse riding and camel riding fees, Daily supply of mineral water - 0.5L bottle of water per day, invitation letter arrangements for mongolian tourist visa issue, service fees and government tax.
This price DOES NOT INCLUDE:
International air flight round trips, international train tickets, Travel insurance, medical insurance, Fee for Mongolian tourism visa obtain, Any expenses to buy something for worshipping ceremonies, Alcoholic beverages, Additional and optional services, Fee for extra luggages, Personal expenses such as laundry service, any charge for major force beyond of our control such as the imposition of quarantine restrictions, weather bad conditions, changes of arrival/departure flights, poor roads conditions and single supplements for ger tourist camps = 20USD per night and etc.
Please, Note:
1. Hotels in Ulaanbaatar city reserved on double occupancy, and in countryside all Ger styled tourist camps are based on triple or 4 occupancy.
2. Check-in at hotels is at 12:00m/Check-out at hotels is at 12:00m
!!! Tour itinerary and price may be subject to change. The duration of the above trip can be prolonged or changed to suit Mongolian needs. Please, make your reservations at your earliest convenience.