Khalkha Mongolian shaman healing trip
Tour code: MN-95
Duration: 7 days
Tour grade: Easy temp, Spiritual & Medical type
Total distance: 200 km by jeep
Number of travelers: Available for 1-4 people, not big group more than 4 pax.
Activity: Meeting with Khalkha mongolian shaman lady, shaman fire ceremony, energy fixing, soul calming and spirit healing, body healing and nature respect ceremony
Notes: Available for any season. The date can be fixed just in 20 days before the rituals are held by shamans. This tour is not show for tourists. It is real active and effective rituals & ceremony for tourists. Shamans' ancestors spirits will do special ceremony for clearing the man body, soul and aura, fixing the energy, calling good luck and success, worshipping ceremony for building up a strong protective energy wall for your health so on...
Specially advised to pack: Sun glasses and sun hat, binocular,your favorite delicacies. Specially if you participate in shaman rituals and want to offer something to mountain, river and for fire, you can buy some staffs in Ulaanbaatar, after you arrive in Mongolia: Fr example: milk, juniper, vodka, goat meat, khadag - silk scarf and so on...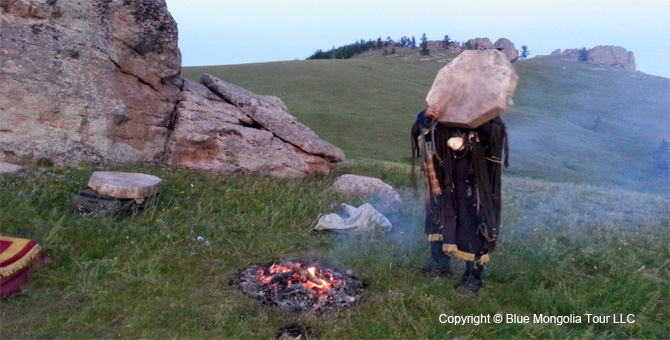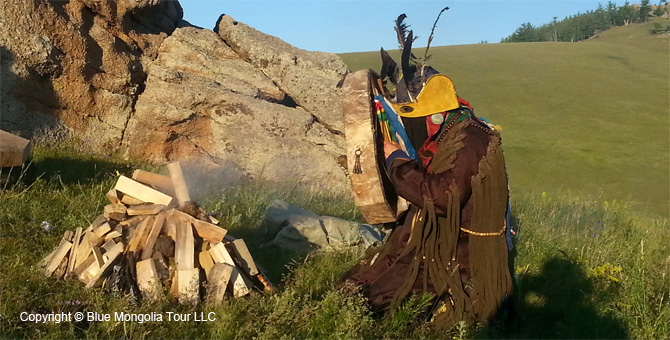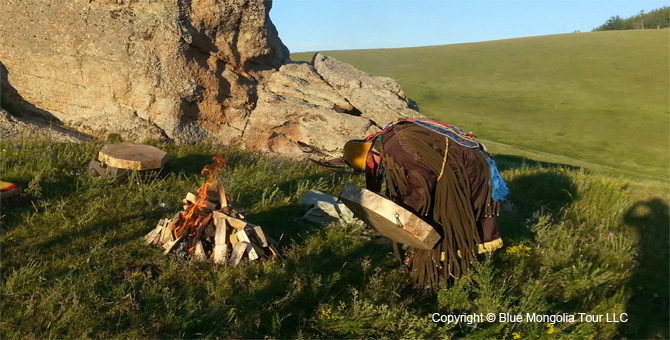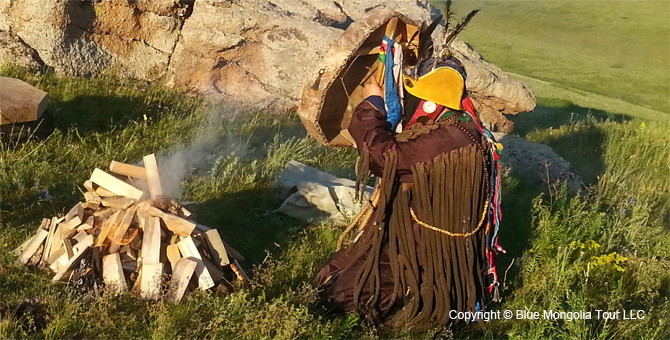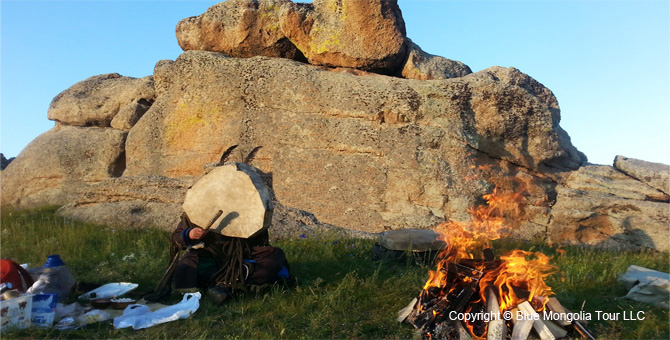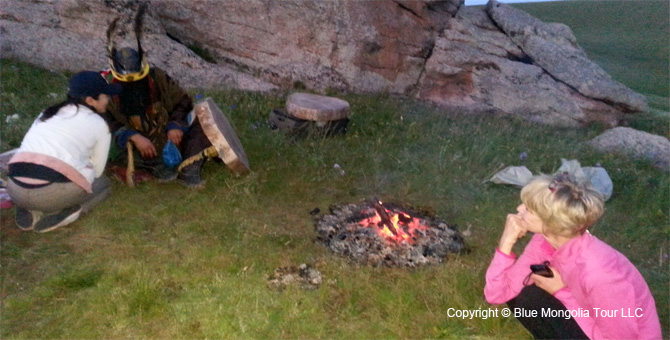 Day 1: Arrival in Ulaanbaatar city
Arrival in Ulaanbaatar city, Meeting assistance upon arrival by Blue Mongolia Tour agency representative and transfer to Hotel with 3 stars. Free time to adjust for time difference, Stay in hotel with 3 stars
Day 2: Ongods welcoming & Checking the health condition
Breakfast, Visit to Mongolian National History Museum and Culture Gallery, where are some items related to shamanism. In the gallery you will meet with shaman Mrs.Bolor, who has been a shaman for more than 12 years and she was from khalkha tribe in central part of Mongolia. She belongs to yeallow shamanism: shamansim is mixed with buddhism notions and advantages. Shaman woman will introduce herself and start talk about the phylosophy and religion from nomadic civilization, Respect to the nature, respect to the blue sky and respect to ancestors. After lunch she will show her clothes and drums and other items, which is used for calling his initiation and explain why the clothes and items have those kinds of hangings and protection metals. Today you will explore that how shamans welcome their ancestors spirit and help people to be healed. Ongod will check the tourists health condition in the way of feeling the arterian pulse and do diagnose. After diagnosing her ongods will do special ceremony for tourists to clean the energy and prepare the body and mind for next days healing process or program. Her Ongods will tell you what traditional medicine you need to take. The holy spirits from sky will fix your energy, aura and mood and help you to get good health, happines and success. Drive back to Ulaanbaatar, Dinner, Stay in hotel
Day 3-6: Fire Worshipping Ceremony & Treatment
Breakfast, Drive to shaman lady ger outside of Ulaanbaatar, Today shaman lady will call her traditional medical doctor ongod and you will meet with the ongods and recieve some explanations and instructions how quickly can be healed and what you can do and what you should not do. You will recieve the treatment: it can be massage, or needle theraphy, or aroma theraphy, or medicine, or warm compress, some meditation for soul cleaning, making the 5 elements balanced in body, Fire worshipping ceremony, Finish the treatment program, Drive back to Ulaanbaatar, Dinner, Stay in ger tourist camp
Day 7: Departure day
Breakfast, Check out the hotel, Transfer to the airport, Departure

The tour itinerary is subject to be changed at the traveler's request and requirements.
TOUR PRICE
Contact with tour manager.
Please, Note:
1. Hotels in Ulaanbaatar city reserved on double occupancy, and in countryside all Ger styled tourist camps are based on triple or 4 occupancy.
2. Check-in at hotels is at 12:00m/Check-out at hotels is at 12:00m
!!! Tour itinerary and price may be subject to change.
The duration of the above trip can be prolonged or changed to suit Mongolian needs.
Please, make your reservations at your earliest convenience.